When to Use Fresh Versus Canned Pumpkin
The Great Gourd Debate: When to Use Fresh Versus Canned Pumpkin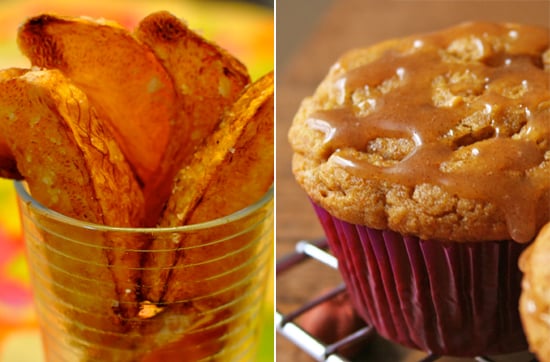 I'm about to tell you something that may shock you: in culinary school, instructors recommended using canned pumpkin over making homemade pumpkin purée. The reason? No matter how much you process fresh pumpkin, it still has a bit of stringy, gritty fiber that can take away from the texture of your recipes, particularly in baked goods. I'm of the belief that there's room in the world for both fresh and canned pumpkin. What matters is how and when you're using pumpkin.Learn when to use one over the other in recipes.
When should you use canned pumpkin?
For sweet applications. Ice cream, cake, bread, pie, and cookies take well to canned pumpkin; its smooth and semigelatinous consistency ensures the sweet treats have an appealing texture. Plus, canned pumpkin has a consistent amount of moisture per can, so your recipes don't end up too runny.
In a beverage. When shaking pumpkin cocktails also benefit from the jammy texture of canned pumpkin.
With a starchy grain. Dishes like hot oatmeal or risotto remain thick from the natural gumminess in canned pumpkin.
In cheesecake, spreads, or dips. Blend equal parts canned pumpkin and butter or cream cheese together to use up leftover canned pumpkin. It adds sweetness, plus it's thick enough to keep the dairy product welded together.
When should you use fresh pumpkin?
On savory dishes. Appetizers, entrées, and other nondessert dishes benefit from the fibrous texture in fresh pumpkin. Plus, if it's a little on the watery side, it won't affect the overall dish as much as it would in baked goods.
In soup. Purée fresh pumpkin in soup rather than beginning with the canned variety so it doesn't end up tasting like viscous baby food.
When roasting pumpkin flesh or pumpkin seeds. If you're making pumpkin seeds, then go ahead and roast the flesh like squash in the oven. You can also make pumpkin fries if you don't want to actually purée the pumpkin.
With pumpkin fillings. For ravioli or lasagna or a pumpkin pasta sauce, use purée from the fresh gourd. It has a more vibrant yellow color, plus it's more savory in flavor than canned pumpkin.
When do you use fresh pumpkin, and when do you stick to the canned stuff?