White Chocolate Blondies Make the Perfect Summer Dessert
Time to Go Blonde
Recently my pal Julie and I got into a debate over which was better: blondies or brownies. In my opinion, nothing can trump a good brownie, but she doesn't agree. After our conversation I realized that even with all of my baking, I was guilty of blondie-discrimination. I've never actually made blondies! When Julie told me she was coming to town, I knew I had to whip her up a homemade treat and give blondies a fair chance. Were they better than brownies? Not really, but they were mighty tasty and I'll be making them again. To get the "Platinum Blondie" recipe I used,
.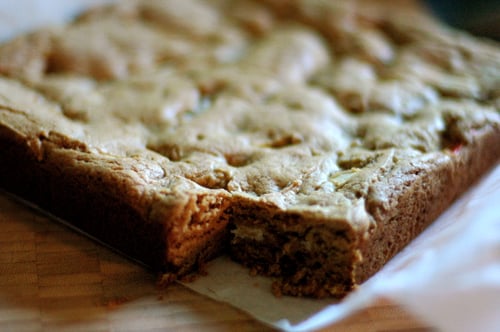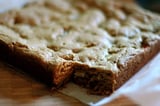 Ingredients
3/4 cup plus 2 tablespoons packed light brown sugar
1 large egg
2 teaspoons vanilla extract
8 tablespoons (1 stick) unsalted butter, melted
1 1/2 cups all-purpose flour
1/2 teaspoon baking soda
1/8 teaspoon salt
1 cup chopped pecans, toasted
4 ounces white chocolate, chopped, or 3/4 cup white chocolate chips
Directions
Position a rack in the center of the oven and preheat the oven to 325 degrees F.
Lightly butter an 8-inch square baking pan with sides at least 1 1/2 inches high. [Note: I used a parchment paper sling in addition to butter. This helped lift the blondies out of the pan later.]
Using an electric mixer or mixing by hand, beat together the sugar and egg until light and fluffy, about 3 minutes.
Add the vanilla and butter and beat to mix well. In a small bowl, stir together the flour, baking soda, and salt and add to the butter mixture, beating until just incorporated. Do not overmix.
Using a spoon, stir in the pecans and white chocolate. [I skipped out on the pecans, and wish I had used more white chocolate.]
Spoon the batter into the prepared pan and use a flat metal spatula or a butter knife to smooth the top. [Note: The batter is going to be very thick, but this is okay.]
Bake the blondies for 25 to 30 minutes, until the top is dry and golden and a knife inserted in the center comes out with just a few crumbs attached (not wet, but not perfectly dry).
Remove the pan from the oven and place on a wire rack to cool.
Cut the blondies into 2-inch squares.
The blondies can be stored, well wrapped, at room temperature for up to 3 days (these seem to get better as they sit) or frozen for up to 2 months (thaw before serving).
Makes 16 brownies.
Information
Category

Desserts, Brownies