White House Broccoli Soup Recipe
Soup's on With Michelle Obama's Broccoli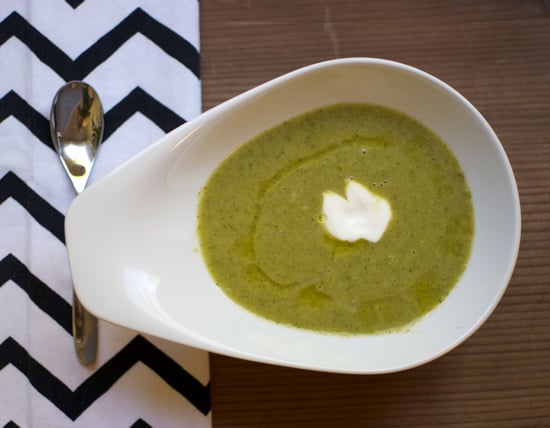 Michelle Obama's cookbook is slated to hit bookstores this week, so here's another taste of what you might find in the book: a simple, easy-to-throw-together broccoli soup. If you want to skip out on blanching the broccoli, you could easily precook the florets in the microwave for a few minutes. To puree the ingredients, use your blender or, for an even creamier texture, use a food mill.
While this White House soup didn't initially call for any toppings, I added a dollop of light sour cream and a drizzle of jalapeño olive oil to boost the soup's body and flavor. Serve this with a spring salad, French bread, and a glass of Sauvignon Blanc for a fresh and veggie-filled dinner. Get this simple recipe and read more.
Broccoli Soup
Adapted from Healthy Recipes From the White House to You
Ingredients
1 large onion, diced
1 stalk celery, diced
3 cloves garlic, minced
1 tablespoon butter
3 heads broccoli
6 cups chicken stock
Salt and pepper to taste
Cayenne pepper to taste
1/2 cup light sour cream (optional)
4 tablespoons jalapeño-infused olive oil (optional)
Directions
Sauté the onion, celery, and garlic in butter until translucent.
Trim the broccoli into one-inch pieces and blanch them in salty water.
Add the broccoli to the vegetable mixture.
Add the chicken stock. Simmer for 10 minutes.
Simmer for 10 minutes then pass the mixture through a strainer, food mill, or blender.
Season soup to taste with salt, pepper, and cayenne. Top with sour cream and a drizzle of olive oil. Serve hot.
Serves four to six.
Information
Category

Soups/Stews, Clear

Cuisine

North American
Love this recipe? Check out more recipes from Michelle Obama and the White House.