Who Created Food in the Air?
Meet the Sisters Behind the Wildly Popular Instagram Food in the Air
You may have seen their posts on Instagram or witnessed people on the street in foreign cities — perhaps even your city — taking photos of their mouthwatering meal against an equally mesmerizing background. But now, you're going to meet the family behind Food in the Air, an Instagram account that combines almost everyone's favorite things: food and travel.
Carolyn, Meg, Patty, and Charlotte are four sisters from Durham, NC, who have had a passion for food since a young age. Their mother owns a gourmet food market, so they were exposed to the industry from birth. However, it didn't occur to them to start a food blog until they were driving to the Adirondacks in 2013 with Carolyn's boyfriend, George Broadbin. After scrolling through the typical food Instagrams, they thought, "It'd be way more fun to hold your food in the air so the food relates to the area or destination rather than just the average shot of your meal on a table." Meg also added that "it challenges people to get creative, and it tells a great story."
To no one's surprise but their own, Food in the Air took off almost immediately. Patty, a senior at College of Charleston at the time, speculated that they "had something special when our friends were obsessed with the concept." Soon after they launched, "it spread like wildfire" throughout her college. What propelled them to instant success was a combination of things. Patty attributes at least some of their fame to "being recognized by popular food blogs," and within a year they had 10,000 followers. The rest is history: a year and a half after launching, Food in the Air had garnered almost 100,000 followers. Now, FITA (an admittedly catchy acronym that the sisters and fans use) works with brands to do promotional posts.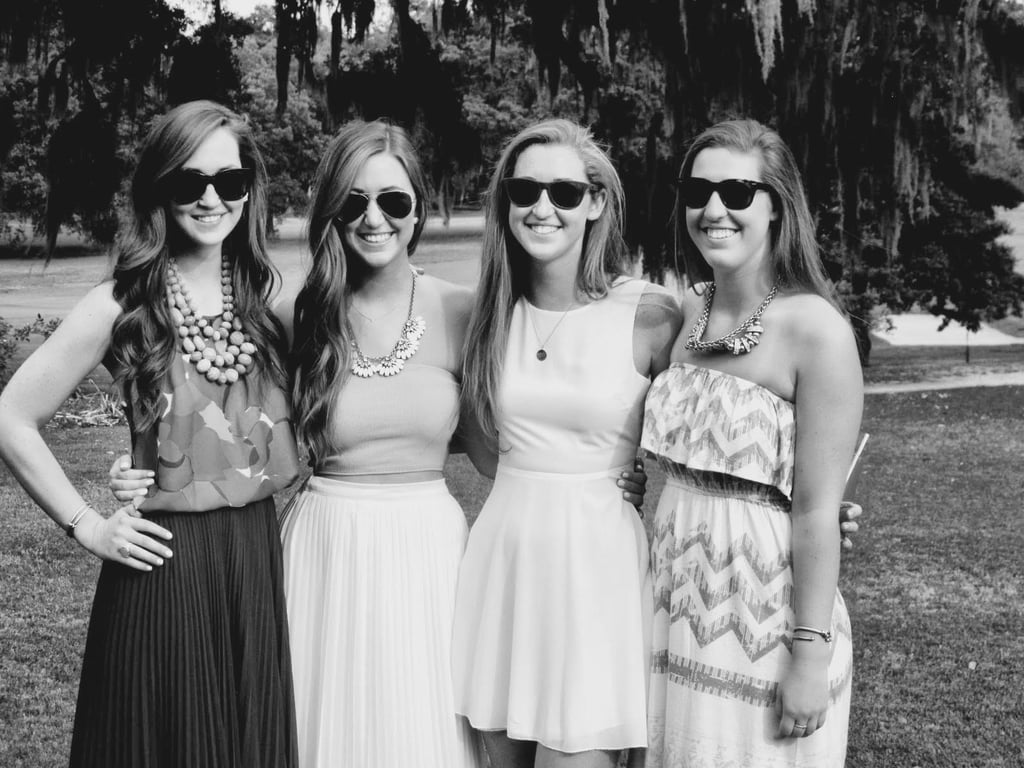 With over two years' worth of submissions, the sisters behind FITA were conflicted when it came to choosing their favorite photos. Since they "get hundreds of submissions daily," it is understandably hard to pick. Patty's favorite photos are ones that show dedication; one of her friends "carried doughnuts to the Great Wall of China" for the sake of a FITA post. Meg, the second oldest sister, is a photographer and is fond of their posts from San Francisco's Outside Lands Music Festival this year (check out her photography account @msnphotography).
Selecting which photos to post is not an easy task. The sisters agree that food is the priority. Posts are determined by the quality, creativity, and composition of the picture. After food, the girls look for a beautiful scenic background. However, even if the background is phenomenal and the food is blurry, "It's a no," according to Meg.
Being founders of a successful food blog predictably has it perks, and eating at some of the world's best restaurants is definitely one of them. While Patty's favorite restaurant is The Cabana Café at the Beverly Hills Hotel, since moving to San Francisco she loves Anna Weinberg's restaurant Park Tavern. Both Patty and Meg have an affinity for truffles (who doesn't?). Meg's "most memorable dish" is the truffle lobster gnudi from Saxon + Parole in New York City, and for Patty, it's the fries at The Cabana Café.
Even food bloggers have their favorite accounts, and these sisters are no different. Patty is obsessed with @mimis_meals, because "she goes with the circle border and always has delicious breakfast foods." Charlotte, the youngest sister, loves @dennistheprescott because she "appreciates the uniformity to his Instagram page" and admits it's something they try to mirror on their own.
As for the future, Carolyn, Meg, Patty, and Charlotte have their sights set on a recognizable brand. Charlotte says her dream is to be able "to work for ourselves." Patty hopes to start writing restaurant reviews and potentially a Food in the Air product line.
If you don't follow @foodintheair, we hope you're convinced to now. While you're at it, check out the sister account @drinksintheair, because every great meal is accompanied by an equally tasty drink.