Why Avocados Brown
Burning Question: Why Do Avocados Turn Brown?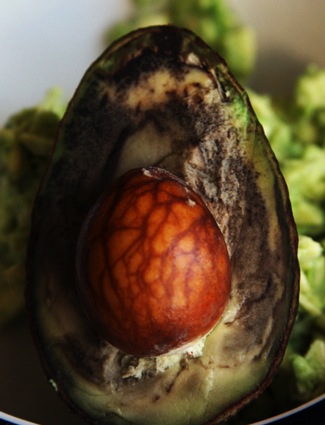 I recently took home a large batch of prepared guacamole from a party, hoping to make good use of it at home during my next taco night. But I opened the package for a quick bite, and within hours, the entire container of gaucamole had turned a dirty brown. What gives?
Guacamole is made from avocados, which are difficult to preserve fresh (or process effectively) due to their tendency to change color.
Avocados contain an enzyme called polyphenol oxidase, which, when exposed to oxygen, changes the chemical structure of avocado flesh, increasing the presence of melanins (yes, the same pigments that provide color in human skin).

Another discoloration you might encounter when cutting open avocados are occasional brown or black lines within the fruit's flesh. Those are nothing to worry about; they're found in fruit from young avocado trees, but are perfectly safe for consumption.
Do you hesitate to eat avocados once they've begun to oxidize? What measures do you take to prevent them from discoloring?
Source: Flickr User QuinnDombrowski