Why You Should Say Thanks
4 Reasons to Remember to Thank Your Party Hostess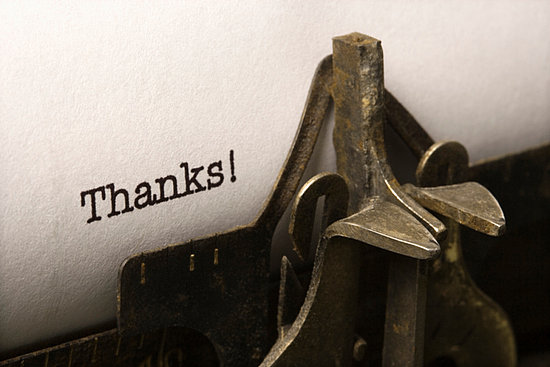 With the long weekend looming delightfully ahead of us, I wanted to remind you of the importance of the thank-you note! If you're spending the next few days at a friend's house or attending a barbecue or party hosted by a loved one, after the fact, take a quick minute to send them a thank-you. It doesn't have to be a handwritten note (although those are always greatly appreciated), a short, but sweet email or text is perfectly acceptable. Here are four reasons why you should make time to say thanks:
If the hostess is a good one, she probably put a lot of thought and planning into your visit or meal. Did she welcome you with your favorite bottle of bubbly? Was she sure to include plenty of vegetarian options on the menu? She took the time to think about what makes you happy, so let her know you're grateful for her effort.
Do you want to get invited back? Be sure to send a thank-you! The hostess who entertains a lot will make note of the guests who send a thank-you vs. those who do not send a thank-you. Don't say thanks and she may choose not to invite you to her next party.
The thank-you card is a dying art that should be brought back! I'm sure your parents made you write them when you were little, so why did you grow out of the habit? It's the polite and proper thing to do.
It will brighten your hostess's day. Did you look forward to her barbecue and have an awesome time? Then make the days after the fiesta a little happier for her and let her know it was a wonderful soiree.
Do you send a thank-you after attending a party? What's your reasoning for it?