'Wich of the Week: Avocado and Mango With Cilantro-Lime Mayonnaise
'Wich of the Week: Avocado and Mango With Cilantro-Lime Mayonnaise
When a recipe calls for cilantro, I'm always forced to buy way more than I'll ever need, which leads me on a search for even more cilantro-centric recipes. That was the catalyst for today's 'Wich of the Week, which features an unorthodox combination of mango and avocado on healthy multigrain bread. This vegetarian sandwich has a refreshing tropical flavor that's alternately tangy and mild. The creamy avocado balances out the zip of the lime and the sweetness of the mango. I decided to make two versions: one vegetarian and one with ham for the hardcore meat eaters. But we all agreed that the sandwich was better without the ham, since the cold cuts overpowered the more delicate fruits. I do recommend you add some clover sprouts for added texture; just steer clear of the recalled ones! To get the recipe and step-by-step photos,
.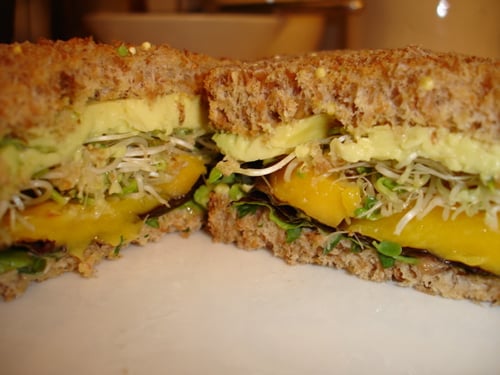 Avocado and Mango Sandwiches With Cilantro-Lime Mayonnaise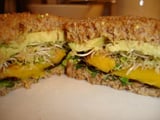 Ingredients
1/3 cup light mayonnaise
1/4 cup fresh cilantro leaves, coarsely chopped
1 tbsp. fresh lime juice
coarse salt and ground pepper
8 slices multigrain bread, toasted
1 head Bibb lettuce, leaves separated
1 mango, peeled, pitted, and thinly sliced
1 Haas avocado, pitted and thinly sliced
Directions
In a small bowl, combine mayonnaise, cilantro, and lime juice; season with salt and pepper.

Dividing evenly, spread toasts with mayonnaise mixture. Top 4 toasts with lettuce, mango, and avocado; cover with remaining toasts.* Serve immediately.
Serves 4.
*I also added clover sprouts.
Information
Category

Main Dishes, Sandwiches