'Wich of the Week: Benedictine Cheese Tea Sandwiches
'Wich of the Week: Benedictine Cheese Tea Sandwiches
I love the tiny sandwiches, scones, and petit fours served at afternoon tea, but rarely do I make dainty crustless sandwiches at home. So for today's 'Wich of the Week, I used the Kentucky Derby as an excuse to make some teatime treats. These ladylike sandwiches are filled with Benedictine cheese, a creamy cucumber-and-scallion spread that's native to Louisville and often served on Derby Day. The Benedictine is a twist on the usual cucumber and cream cheese sandwich, which is by far one of my favorite teatime combos. These sandwiches benefit from the added kick of scallions; in fact, they were so flavorful that no one even complained about the low-fat cream cheese. The only somewhat odd ingredient is green food coloring, but since that's the tradition, I went with it, and it gave the spread a nice pastel hue. To see how I made them, including a step-by-step photo gallery,
.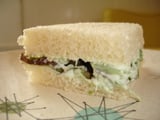 Ingredients
1/2 cucumber, peeled, seeded, grated, and drained of moisture
1 bunch scallions, white parts plus two inches of green parts, finely chopped
8 oz. cream cheese, softened (I used low-fat cream cheese)
1 Tbsp. mayonnaise
1-2 drops green food coloring
8 slices white bread, crusts removed
3 red leaf lettuce leaves
Directions
Peel the cucumber, slice it in half lengthwise, and scrape out the seeds with a spoon. Using a microplane grater, grate the cucumber into a colander and drain the moisture off. Transfer cucumber to a bowl.
Finely chop the scallions and add them to bowl with the cucumber.
In the bowl, combine the cream cheese, mayonnaise, and food coloring and mix thoroughly.
To make each sandwich, spread a thin but significant layer of the cheese spread onto each slice, spreading just almost to the edges of the bread.
Place a single layer of lettuce atop one of the slices, then press the two pieces of bread together so that the lettuce is between the two layers of cheese.
Cut diagonally into four triangles and serve.
Information
Category

Main Dishes, Sandwiches

Cuisine

North American