'Wich of the Week: Cap'n Blue Cheese Chicken Sandwich
'Wich of the Week: Cap'n Blue Cheese Chicken Sandwich
With double-meat sandwiches, it is important to tread carefully. So for this indulgent combination of marinated chicken and cured meat, I gathered exceptionally gourmet ingredients: Point Reyes blue cheese, capocolla (aka coppa) from Chris Cosentino's Boccalone deli, and organic chicken thighs. Since I was piling meat upon meat with creamy cheese, I made extra-small sandwiches using soft but firm dinner rolls. Somewhere between salami and pancetta in terms of flavor, the capocolla adds a bacon-y bite, so the resulting cap-and-cheese-laden creation is reminiscent of a bacon cheeseburger without the beef. Using chicken thighs and a nutty, salty marinade adds to the heartiness, while the sautéed mushrooms and tomato help temper the richness. To get the recipe for this double-meat delicacy,
.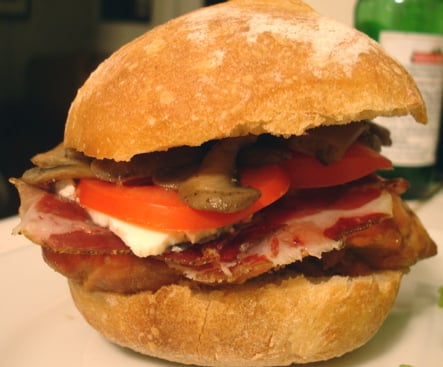 Cap'n Blue Cheese Chicken Sandwich
Original recipe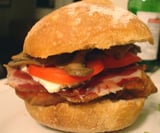 Ingredients
1/4 cup peanut sauce
1/4 cup hoisin sauce
1/3 cup soy sauce
3 tablespoons sesame oil
1 tablespoons hot sauce (such as Tabasco)
4 boneless, skinless chicken thighs
8 pieces of thinly sliced capocolla, or coppa
2-ounce block of blue cheese, sliced
2 small roma tomatoes, cut into 8 slices
1 cup button mushrooms, ends trimmed and caps sliced
1 tablespoon butter or olive oil
4 soft but sturdy white dinner rolls
Directions
In a medium bowl, combine the first five ingredients to make the marinade. Toss the chicken thighs in the mixture so that they are evenly coated; cover and refrigerate for 1-3 hours.

Preheat oven to 375°F. Place the chicken thighs, with the marinade, in a casserole dish. Bake for 20 minutes or until the juices run clear.
Heat one tablespoon of butter or olive oil in a skillet over medium-low heat. Add the sliced mushrooms and sautée until medium-brown and soft, 10-12 minutes.

To make each sandwich, slice the dinner roll horizontally, stopping just at one edge to create a hinge. On the bottom half, place one chicken thigh, followed by two pieces of capocolla, two slices of blue cheese, and two tomato slices.
Divide the mushrooms evenly among sandwiches, and place atop the tomato. Cover mushrooms with top half of roll and serve.
Makes 4 sandwiches.
Information
Category

Main Dishes, Sandwiches