'Wich of the Week: Cubano Panini
'Wich of the Week: Cubano Panini
A little Cuban sandwich is called a "medianoche," meaning midnight, because it's often scarfed down after a night out. I made the mistake of consuming a much larger version of the sandwich smack in the middle of the day and, as a result, used up most of my energy until dinner digesting it. Invented either in Cuba or by Cuban laborers in Florida (no one can quite decide which), a classic Cuban sandwich contains roasted pork, ham, pickles, swiss or provolone cheese, and mustard, all served on a roll that's flattened and grilled on a sandwich press or "plancha." Since Cuban bread isn't often found outside Florida, cooks elsewhere make them on hoagie rolls or regular sliced bread. For more details on my Cubano panini,
. I devoured this panini-style Cuban sandwich at a local cafe, and although the bread wasn't authentic — it was made on thick-sliced bread rather than a roll — the roasted pork was the real deal. It was so succulent, and the bread so warm and buttery, that it made a total mess of my hands, but thankfully I still managed to snap some photos. I love this combination of pork, pickles, and mustard and can't wait to replicate it at home. See how with the recipe below.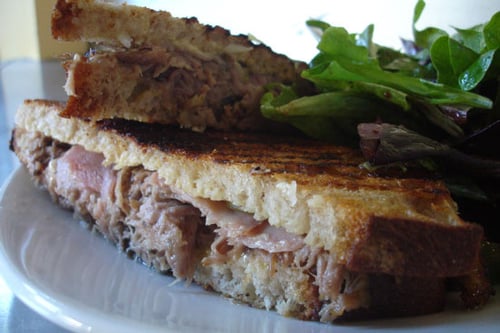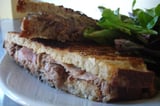 Ingredients
8 thick slices of bread, country white or wheat
2 tablespoons yellow mustard
1/4 pound baked ham, thinly sliced
1/4 pound roast pork, thinly sliced
1/4 pound provolone cheese, thinly sliced
10 thin dill pickle slices, approximately 2 whole pickles
1 tablespoon unsalted butter, room temperature
Directions
Lay the bread flat and and spread mustard on one side of each slice.
Divide the ingredients evenly among the slices. Start with the ham followed by the pork, cheese, and dill pickles. Cover with remaining slices of bread.
Heat your panini maker or sandwich press. Butter each side of the press. Place the sandwiches inside, press down and grill until the cheese is melted and the bread is flat and browned, approximately 10 minutes.
If you don't have a sandwich press, you can heat 6 fireplace bricks wrapped in foil, in a 500 degrees F oven for 1 hour and then press the sandwich between them for 10 minutes. Serve warm.
Makes 4 sandwiches.
Information
Category

Main Dishes, Sandwiches

Cuisine

Central American