'Wich of the Week: Easter Ham Slider
'Wich of the Week: Easter Ham Slider
One of my favorite things about major holiday feasts is getting to make sandwiches with the leftovers. But while the post-Thanksgiving sandwich is probably the most popular, I think Easter is underrated in this regard. So for this 'Wich of the Week, I thought I'd do something a bit different and show you how I transformed my Easter ham and side dishes into a sandwich. This probably isn't a sandwich you'd make from scratch — the individual components are fairly time intensive — but it would be delicious if you did. Or, you can easily re-create the meal and use the leftovers to make your own sandwich. To see how the meal became a sandwich, and to get the recipes,
.
My Easter meal involved a precooked spiral-cut ham, celery-root puree, and cabbage with candied pecans, all of which made their way onto this sandwich. I served it on one of the dinner rolls my friend made from scratch, to create a sort of Easter slider. To make the sandwich, I sliced the roll in half horizontally, then spread the celery-root puree on either side, like a condiment. Then I added a few slices of ham, topped by a bit of the cabbage; the cabbage and puree recipes are below.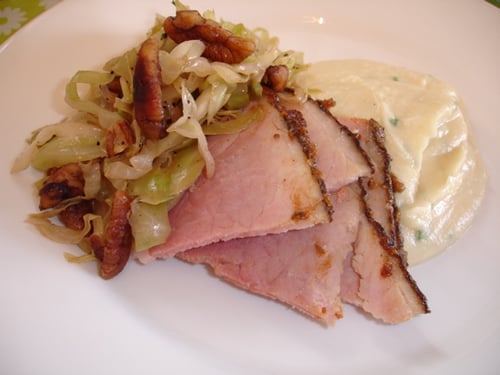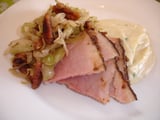 Ingredients
3 cups whole milk
3 cups vegetable broth
1 tablespoon salt
2 large celery roots (about 2 1/2 pounds total), peeled, cut into 2-inch cubes
1 medium russet potato (about 10 ounces), peeled, cut into 2-inch cubes
1 small onion, peeled, quartered
5 tablespoons butter, cut into 5 pieces
Ground white pepper
Chopped fresh chives
Directions
Bring milk, vegetable broth, and salt just to boil in heavy large saucepan over high heat. Add celery root cubes, potato cubes, and onion quarters; bring to boil. Reduce heat to medium and simmer until vegetables are tender, about 30 minutes. Drain, discarding cooking liquid.
Combine vegetables and butter in processor and puree until smooth. Season to taste with salt and white pepper. (Do ahead: Celery root puree can be made 1 day ahead. Cover and chill. Rewarm in microwave before serving.)
Transfer celery root puree to bowl. Sprinkle with chopped fresh chives and serve.
Serves 8.
Information
Category

Vegetables, Side Dishes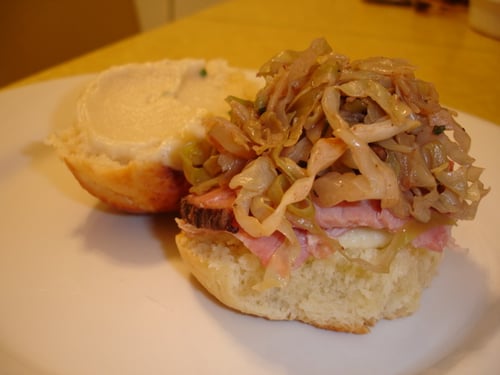 Cabbage With Candied Pecans
Original Recipe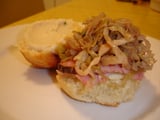 Ingredients
1 head of green cabbage, shredded
3/4 cup coarsely chopped pecans
3 tablespoons of butter
3 tablespoons of sugar
1 1/4 teaspoon Kosher salt
1 cup unfiltered apple juice or apple cider
1 tablespoon chopped fresh thyme
Freshly ground black pepper
Directions
First, cook the pecans: Melt 2 tablespoons butter in a skillet over low heat. Add pecans and sautee, stirring often, for 5 to 10 minutes, until they just start to brown.
Add 3 tablespoons sugar and 1/4 teaspoon salt. Continue stirring until sugar melts and pecans are coated and glazed. Remove from heat, let cool on parchment paper.
In a separate skillet, melt 1 tablespoon of butter in a skillet over medium-low heat. Add the apple juice or cider, followed by the shredded cabbage.
Cook cabbage for about 10 minutes or until it wilts and turns a vivid green. Then add 1 teaspoon salt, plus pepper to taste.
Add pecans and fresh thyme, toss with cabbage, and stir for an additional 2 minutes. Drain off any remaining liquid and serve.
Serves 8.
Information
Category

Vegetables, Side Dishes