'Wich of the Week: Eggplant Grilled Cheese
'Wich of the Week: Eggplant Grilled Cheese
When dealing with Thanksgiving leftovers, sandwiches are an obvious choice — and believe me, I consumed my fair share of turkey and stuffing on wheat bread last week. But in a more unexpected repurposing, I also used the breadcrumb mixture leftover from my New Orleans-style baked oyster dish to make this twist on a grilled cheese. In this case, the "bread" is actually sliced eggplant coated with breadcrumbs, and the cheese is provolone (though mozzarella would also be good with a marinara dipping sauce on the side). I can't say this recipe is any healthier than a typical grilled cheese, since the bread crumb mixture is made with butter, but it is a creative take on a classic for all you grilled cheese fans.
What's cool is that the golden-browned breadcrumbs take on both the look and flavor of grilled, buttered bread, and the skins of the eggplant slices resemble bread crust. The breadcrumb mixture is easy to make, even for a weeknight supper. To get the recipe and step-by-step photos, read more.
Eggplant Grilled Cheese Sandwich
Original recipe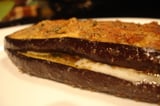 Ingredients
2 medium to large eggplants
1/4 cup salted butter
1/4 cup olive oil, plus more for brushing eggplant
2 teaspoons finely minced garlic
2 tablespoons finely minced fresh parsley
2 tablespoons finely chopped green onions (green parts only)
2/3 cup Italian bread crumbs
1/2 teaspoon salt, plus more for seasoning
1/2 teaspoon freshly ground black pepper, plus more for seasoning
1/8 teaspoon cayenne pepper
1/2 teaspoon dried tarragon
1/2 teaspoon dried oregano
1 egg
4 slices of provolone cheese
Directions
Preheat oven to 350°F.
After removing the stems from the ends, slice each eggplant lengthwise into 1/2-inch thick slices, discarding the round-edged slices, for a total of eight uniform slices.

Brush eggplant lightly with olive oil and sprinkle with salt and pepper to taste. Place on a greased baking sheet and bake in oven for 30 minutes, flipping the eggplant once during baking.
Meanwhile, make breadcrumb mixture. Melt 1/4 cup butter in a skillet over low heat. Add oil, garlic, parsley, and green onions and cook until softened, about 5 minutes. Mix in 2/3 cup Italian bread crumbs, 1/2 teaspoon salt, 1/2 teaspoon pepper, cayenne, tarragon, and oregano. Stir until well combined and remove from heat.
In a small, shallow bowl, lightly beat the egg.
Transfer the breadcrumb mixture onto a large plate, and wipe the skillet clean with a paper towel.
To prepare each eggplant slice, dip lightly into the egg, then coat generously with breadcrumbs, pressing to stick the bread to the eggplant.

Two slices at a time, place the eggplant in the skillet over medium-low heat and cook for 2 minutes per side, until breadcrumb coating is golden brown. Top one slice of eggplant with provolone cheese and place the other slice of eggplant on top of the cheese to make a "sandwich." Cook for an additional minute per side.

Continue with the remaining eggplant slices. If desired, transfer each completed sandwich to the baking sheet and place in the oven to keep warm.
Makes 4 sandwiches.
Information
Category

Main Dishes, Sandwiches

Cuisine

Italian