'Wich of the Week: The Ex-Boyfriend at Ike's Place
'Wich of the Week: The Ex-Boyfriend at Ike's Place
I love Ike's Place so much that I could start a 'Wich of the Week spinoff devoted solely to sandwiches from Ike's. I was hesitant to write about my new favorite sandwich place in San Francisco, since the lines are long enough already. But keeping the enormous, palate-entertaining creations to myself wouldn't be in the spirit of sandwich love. Opened a year ago, Ike's is a tiny storefront in the Castro neighborhood, barely big enough to accommodate its sizable staff — making sandwiches this well is no easy task — and massive menu of 50-plus sandwiches with playful names like Nacho Boy (hot roast beef, mushrooms, avocado, and swiss) and the Paul Reubens (a take on the Reuben with poppy-seed coleslaw). Priced between $7 and $9, these are some of the largest sandwiches I've ever eaten; if I have one for lunch, I'm hardly hungry for dinner. But that's not even a taste of why I like Ike's. To count the ways,
. I have sampled several sandwiches from Ike's, all of which come with lettuce, tomato, and onions. My favorite so far is We're Just Friends, which features shredded chicken cooked in a sweet orange glaze, contrasted with avocado and pepperjack. On my most recent trip, I tried the similar but not quite as transcendent That's Too Bad (above), with chicken, spicy lime fajita sauce, mushrooms, and pepperjack, as well as today's featured sandwich, the Ex-Boyfriend, with salami, bacon, avocado, and cheddar. I've whipped up a recipe below, but first, here's are five reasons that Ike's is awesome.
The rolls — your choice of French, sourdough, wheat, or Dutch crunch — aren't baked until you order your sandwich, so they are fresh beyond belief.
Before baking, the rolls are spread with "dirty sauce," a homemade garlic and herb aioli. It's very subtle but adds a perfect little kick.
The ingredients are first-rate. The shredded chicken is so moist, I could eat a plate of it, and the avocados are always perfectly ripe.
The French fries are to die for. They're medium-cut but with a crust like curly fries that tastes vaguely of chipotle.
The staff is super nice. Clearly they care a lot about sandwiches, so they are happy to help you make a decision about which of the sandwiches suits you best. For a sandwich lover like myself, Ike's is something of an obsession. But I'll try to refrain from letting it take over 'Wich of the Week. I haven't quite figured out how Ike's makes its sammies (for instance, does it put them back in the oven after assembling them?) but here's an approximation of the Ex-Boyfriend to try at home.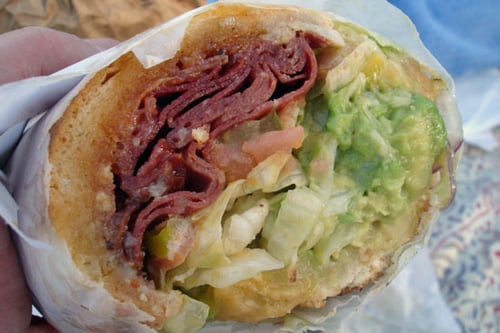 Salami and Bacon on Dutch Crunch
Inspired by Ike's Place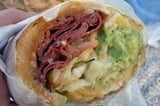 Ingredients
1 Dutch crunch or French roll
2 tablespoons of garlic aioli
2-3 slices of cheddar cheese
Thinly sliced red onion, to taste
1/4 cup iceberg lettuce, shredded
1/2 avocado, sliced
3 slices of tomato, thinly sliced
8 slices of high-quality salami
6 strips of bacon, cooked
Directions
Preheat oven to 350°F.
Slice Dutch crunch or French roll in half horizontally, and coat the inside of the roll on both sides with garlic aioli.
Lay sliced cheddar on bottom half, and toast in the oven for 5 minutes or until cheese is melted.
Remove from oven. On top of the cheese, arrange onions, lettuce, avocado, tomato, salami, and bacon.
Place the top half of the roll onto the stack of ingredients, cut in half, and serve immediately.
Makes one sandwich.
Information
Category

Main Dishes, Sandwiches

Cuisine

North American