'Wich of the Week: Fish and Farm Baguette
'Wich of the Week: Fish and Farm Baguette
Faced with some random farmers market booty a few weeks back, I ended up inventing a rather out-there sandwich that may just be one of my favorite creations since I started this series. This pile of goodness combines quick stir-fried veggies with orange roughy fillets baked in a parchment paper pouch — or, in my case, a paper bag since I was out of parchment. Either one works equally well. I used zucchini, leeks, and peppers to take advantage of what's in season, plus some enormous trumpet mushrooms I couldn't resist buying. But you could easily adapt the veggies on this 'wich to correspond with the changing seasons. The sweet marinade for the fish reminded me of a delicious sea bass, and the Asian flavors played well off of the simple baguette. To see how I made this easy but surprising sandwich,
.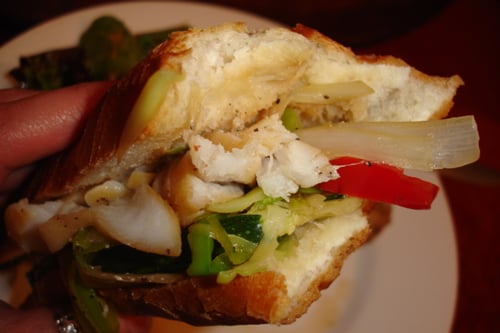 Fish and Farm Baguette
Original Recipe by YumSugar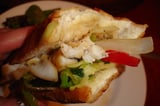 Ingredients
2 boneless orange roughy fillets (about 3/4 pound)
1/4 cup reduced-sodium soy sauce
2 tablespoons honey
1 teaspoon sesame oil
1/2 teaspoon Sriracha sauce
1 tablespoon olive oil
1 medium leek, green parts discarded, sliced into spears
1 medium red bell pepper, sliced into spears
1 medium zucchini, ends trimmed then sliced lengthwise
4 large trumpet mushrooms, sliced
1 baguette, quartered
Directions
Preheat oven to 350°F.
In a large bowl, combine soy sauce, honey, sesame oil, and Sriracha sauce. Place the fish in the mixture and toss to coat. Place the bowl in the fridge and let the fish marinate for at least 15 minutes and up to one hour.
In a saucepan over medium heat, sauté the leeks, peppers, and zucchini for about 5 minutes, until just tender.

Place a small paper bag or parchment paper pouch atop a baking sheet. In the bag, lay the mushroom slices flat, then top with the leek, pepper, and zucchini mixture. Lay the fish fillets over the veggies, then drizzle with about half of the marinade.
Loosely close the paper bag or pouch and place it in the oven for 12 minutes.

Slice each baguette quarter horizontally from end to end, stopping right at one edge to create a sort of hinge on one side.

Cut the fish fillets in half lengthwise and divide the veggie mixture into four equal portions. On each baguette, arrange 1/4 of the veggies and top with a piece of fish.
Makes 4 sandwiches.
Information
Category

Main Dishes, Sandwiches

Cuisine

Other Asian