'Wich of the Week: Fried Oyster Po'boy
'Wich of the Week: Fried Oyster Po'boy
If you're a fan of oysters, you may be sneaking the seafood into your Thanksgiving stuffing. But the batter-fried bivalves are even more divine stuffed inside a sandwich — in this case, the famous New Orleans French-bread creation known as an oyster po'boy or oyster loaf. Just how divine is the oyster loaf? In the 1800s, the sandwich was nicknamed la mediatrice or "the peacemaker," because husbands brought them home to placate angry wives. Some skeptics wonder how a po'boy is different from a sub or a grinder, so for further insight and two great recipes,
. If you've ever eaten an oyster po'boy, you know that it's no sub sandwich. What sets a po'boy apart is the fluffy but flaky French bread that's native to New Orleans. The way the crusty loaf hugs the cornmeal-crusted oysters, squishing them down to manageable sandwich size, elevates an otherwise simple recipe to regal status. This version, which I devoured on a sunny Monday morning at Nola's Acme Oyster House, is "dressed" with shredded lettuce, tomatoes, and mayo, plus a touch of Tabasco and lemon. But the minimalists among you can skip the dressing. Below, get the recipes for both the oyster loaf and the cormeal-crusted oysters that go inside it.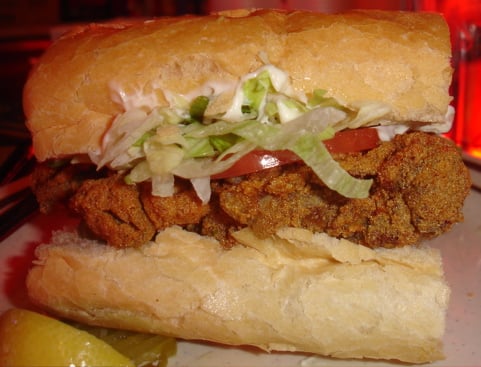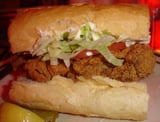 Ingredients
1 dozen fresh fried oysters
1 small loaf French bread (about 1 foot long)
1/4 cup salt butter
1 cup shredded iceberg lettuce
2 slices tomato
Mayonnaise (optional)
Tabasco (optional)
Salt (optional)
Directions
Prepare the fried oysters according to the recipe for Fried Oysters in Corn Meal.
Slice the French bread in half across and then in half lengthwise.
Place in a 300 degree oven to warm for about 6 minutes.
Spread butter generously over the inner surfaces of the bread and heap the fried oysters on the bottom pieces.
Add mayonnaise and Tabasco, or just a bit of salt if you prefer, and cover with the top pieces of bread. Serve hot.
Makes one sandwich.
Information
Category

Main Dishes, Sandwiches

Cuisine

Cajun/Creole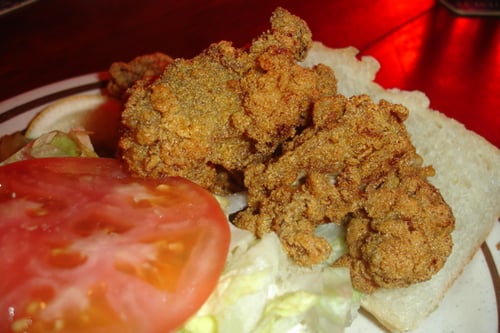 Fried Oysters in Corn Meal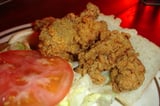 Ingredients
1 1/2 pints fresh shucked oysters (about 2 1/2 dozen medium-sized oysters)
Vegetable oil for deep frying
1 cup finely ground yellow corn meal
2 teaspoons salt
3/4 teaspoon fresh, finely ground black pepper
1/8 teaspoon cayenne
Directions
Drain the oysters thoroughly in a colander. Meanwhile, heat the oil to 375 degrees in a deep fryer.
In a bowl combine the corn meal, salt, black pepper, and cayenne and mix thoroughly.
Roll the drained oysters about 6 to 8 at a time in the seasoned corn meal, taking care to coat each one evenly and thoroughly.
Fry the oysters in batches of 6 to 8, taking care to keep the frying temperature between 360 and 375 degrees; wait a few minutes after frying a batch for the oil temperature to rise again to the desired level. (If you use a heavy kettle or saucepan, be sure to clip a deep frying thermometer to the side of it and to adjust the burner heat to keep the oil temperature constant.) Fry each batch of oysters for about 2 minutes, or until golden brown.
When done, drain thoroughly by raising the frying basket out of the oil or by using a long-handled skimmer.
Place each cooked batch on a large platter lined with paper towels, then set in a preheated 200 degree oven to keep warm until all the oysters are fried.
Makes 2 1/2 dozen fried oysters.
Information
Category

Main Dishes, Shellfish

Cuisine

Cajun/Creole