'Wich of the Week: Grilled Chicken and Mozzarella Panini
'Wich of the Week: Grilled Chicken and Mozzarella Panini
When it comes to sandwiches — or anything, really — it's hard to go wrong with melted cheese and tomato. Add a few leaves of fresh arugula and chicken cooked to moist perfection on an outdoor grill, and you've got a hot sandwich that showcases the best flavors of the warm months. I enjoyed this melted panini on a recent weekend away with friends, where the house we rented handily had a panini maker. Better yet, it had a charcoal grill (which I do not have), so I got the rare treat of a sandwich made with chicken grilled fresh over charcoal. Even on a hot day, the juicy meat combined with fresh seasonal tomatoes tasted deliciously like Summer. However, if you don't own a grill or a panini maker, you can still make this whole sammie on the stove, so to get the recipe,
.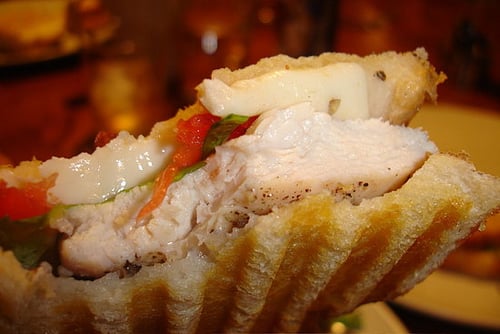 Grilled Chicken and Mozzarella Panini
Original recipe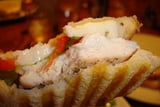 Ingredients
2 round loaves (boules) of Italian bread
3 chicken breasts
salt and pepper, to taste
2 medium roma tomatoes, sliced into 12 thin rounds
2 cups arugula
1 8-oz. log of regular (not fresh) mozzarella cheese, sliced into 12 thin rounds
Butter to taste
Directions
Using a sharp bread knife, slice the round ends off the boules, then cut each loaf into six equal slices for a total of 12 slices.
Heat an outdoor grill or grill pan to medium-hot. Liberally season the chicken with salt and pepper. Grill chicken breasts, turning once, until golden brown and no longer pink in the center, about 15 minutes.
Allow the chicken breasts time to cool, then slice in half horizontally to create six thinner pieces of chicken.
To assemble the sandwiches, spread each slice of bread with butter on one side.
On prep surface, place one slice of bread butter-side down and top with two slices of mozzarella, laid side by side, so the bread is entirely covered. Place two slices of tomato side by side atop the cheese, then top with a layer of arugula leaves. Finally, add one chicken-breast half, and place the second slice of bread on top, butter side up.
In a panini press or grill pan, cook the panini until the top is lightly browned and the cheese is melted. Slice in half and serve.
Makes 6 sandwiches.
Information
Category

Main Dishes, Sandwiches

Cuisine

Italian