'Wich of the Week: Grilled Chicken, Onion, and Apples
'Wich of the Week: Grilled Chicken, Onion, and Apples
I have a serious weakness for savory-sweet combos, including sandwiches featuring apples. Since I've been craving baguette sandwiches lately, I decided to indulge my two sandwich fixations at a friend's recent barbecue (hence the paper plates). These sandwiches are as easy as making kabobs, throwing them on the grill, and simply showcasing the ingredients on a fresh baguette. I coated the chicken with some poultry rub I found in my friend's pantry, but you could just as easily use salt and pepper, and if you don't own a grill, you can bake the skewers in the oven.
The important thing is charring the chicken just right and cooking the apples until they are warm but still juicy. Though some of the guests were puzzled at first by the combination of onions and apples, everyone loved the tender and tart results. To get the easy recipe,
.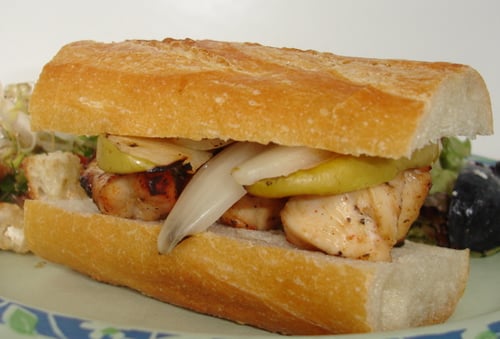 Grilled Chicken, Apple, and Onion Sandwiches
Original Recipe
Ingredients
2 boneless, skinless chicken breasts
3 tablespoons prepared poultry spice rub
2 tablespoons olive oil
1 large yellow onion
1 large green apple (Granny Smith or similar)
4 wooden skewers
1 sweet baguette
Honey mustard, to taste
Directions
Prepare chicken: Cut each breast into 8 large chunks, to get a total of 16 chicken pieces. Coat each piece evenly with spice rub, cover, and refrigerate for at least two hours.
Soak skewers in water for at least one hour.
Preheat grill to 375°F (a medium-hot fire) or preheat oven to 425°F.
Slice onion into 16 large, wedge-shaped chunks that are big enough to be skewered.
Core apple and cut into 12 slices.
Remove chicken from fridge and coat evenly with olive oil.
On each skewer, spear 4 pieces of chicken, 3 slices of apple, and 4 pieces of onion, alternating ingredients.
Place skewers on the grill, and cook until chicken is just cooked through and slightly charred, turning often, about 8 minutes. Or, arrange skewers on a rimmed baking sheet and bake until chicken is just cooked through, about 10 minutes.
Meanwhile, slice the baguette into four quarters, then slice each quarter in half horizontally.
To make each sandwich, spread a bit of mustard onto the bottom half of baguette, then arrange the ingredients from one kabob on the bread. Top with remaining baguette half.
Makes 4 sandwiches.
Information
Category

Main Dishes, Sandwiches

Cuisine

North American