'Wich of the Week: Grilled Grouper With Fried Green Tomatoes
'Wich of the Week: Grilled Grouper With Fried Green Tomatoes
If fried food isn't your thing, then skip last week's fried grouper sandwich and opt for a blackened, grilled version instead. Oh yeah, except this version adds fried green tomatoes, so you'll probably want to leave those off if it's healthy eating you're after. But where's the fun in that? I never would have thought to combine succulent white fish with tangy green tomatoes, but the combination was really outstanding. The restaurant also added onion rings to its sandwich, but I found those to be a little much: All the friedness was getting in the way of the fish flavor. So if I were to make it again, I'd just pair a simple piece of blackened grouper with fried tomatoes, plus lettuce and tartar sauce (or mayo if you prefer). To get the recipes,
.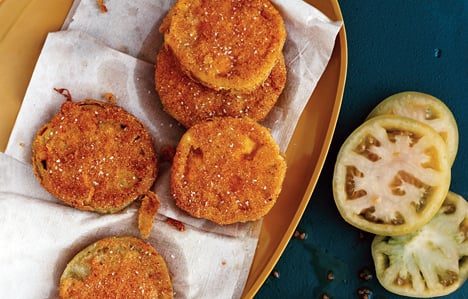 Fried Green Tomatoes
From Cookie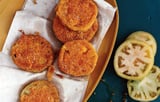 Ingredients
4 large, firm green tomatoes, cut crosswise into 1/2-inch slices
Kosher salt and freshly ground black pepper to taste
1 cup finely ground cornmeal
1 teaspoon paprika or pimentón (a Spanish smoked paprika, available at latienda.com)
2 eggs
Vegetable oil
Directions
Sprinkle the tomato slices with the salt and pepper; set aside.
Combine the cornmeal and paprika in a shallow bowl. In another bowl, beat the eggs.
Cover the bottom of a heavy skillet with 1/2 inch of oil, then place it over medium-high heat.
Coat the tomato slices in the egg, then dredge them in the cornmeal mixture.
Fry as many tomatoes as fit comfortably in the pan until nicely browned, about 2 minutes a side.
Transfer them to a paper towel-lined platter. Repeat until all the tomatoes are cooked.
Makes 4 to 6 servings.
Information
Category

Vegetables, Side Dishes

Cuisine

North American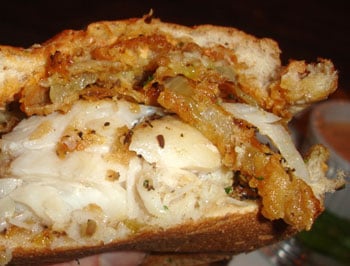 Blackened Grilled Grouper Sandwich
Modified From Publix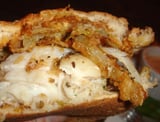 Ingredients
12 slices of fried green tomatoes
1 1/2 lbs. grouper (or mahi) fillets (thawed, if needed)
Cooking spray
2 tablespoons blackening seasoning
4 kaiser rolls
4 tablespoons tartar sauce
8 lettuce leaves (rinsed)
Directions
Preheat 2-sided tabletop grill. Cut fish into 4 portions. Coat both sides of fish with cooking spray then sprinkle with blackening seasoning.
Place fish on grill (wash hands); close lid, and cook 5 minutes or until fish is opaque and separates easily with a fork. (If using regular grill, double cooking time, turning once.) Cook time may vary depending on thickness of fish.
Cut rolls in half, if needed. Spread tartar sauce on bottom half of each roll.
Add fish; top each piece of fish with two leaves of lettuce and three slices of fried green tomatoes. Cover with top half of roll. Serve.
Makes 4 sandwiches.
Information
Category

Main Dishes, Sandwiches

Cuisine

North American