San Francisco's Roxie Food Center is an unassuming corner store, located on an unlikely residential block, that's rumored to have remarkable sandwiches. I've been meaning to try it for months, so a few weeks ago I made a special trip just to get my jaws around one these sammies. Though the store has all the usual varieties of bread and cold cuts, I'd heard great things about the Dutch crunch rolls, which are topped with a sugary, salty crust. The mere thought of the salty-sweet bread combined with jalapeños and pickles made my mouth water, so I ordered a ham and swiss sandwich, dressed with everything and warmed in the oven. For the rest of my Roxie sandwich adventure,
. My friend got the Simon Special, with pastrami, turkey, and cheddar (see above), and we took our enormous paper-wrapped meals to a nearby park. (There's just something extra tasty about a sandwich wrapped in paper, isn't there?) The rolls were so decadent, it was almost like eating a pastry, but the sweet, crunchy roll melded perfectly with the massive stack of ingredients.
In fact, these sandwiches were so packed with different flavors and textures — shredded iceberg lettuce, pickles, jalapeños, tomatoes, and onions — that it was impossible to distinguish one taste from the other. Just like a great sandwich should, the Roxie transformed a bunch of disparate flavors into one novel (and delicious) taste. If you're ever in SF, I highly recommend this hidden convenience store gem. But even if you're not, this is a relatively simple sandwich; re-creating it is all about getting the right ratio of ingredients. I've tried my best to replicate the recipe below, so if you try it, let me know what you think.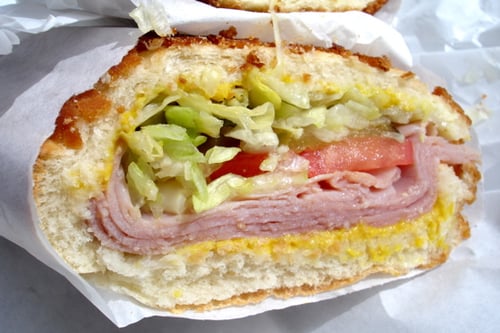 Ingredients
1 Dutch crunch roll
4 slices of cold-cut ham
3 slices of tomato
4-6 jalapeño pepper slices (canned, not fresh)
4-6 dill pickle sandwich slices
1/4 cup iceberg lettuce, shredded
1/8 cup red onion, thinly sliced
2-3 slices of swiss cheese
Yellow mustard and mayonnaise, to taste
Directions
Preheat oven to 350 degrees Fahrenheit.
Slice Dutch crunch roll in half horizontally, and coat the inside of the roll on both sides with yellow mustard and mayo.
On the bottom of the roll, arrange the cold-cut ham, and top with tomato, jalapeno, and pickles.
On top of that layer, place the shredded lettuce, followed by the onion slices.
Top all ingredients with the sliced swiss cheese, and place the top half of the roll down onto the stack of fixings.
Place the entire sandwich in the oven for 5 minutes, or until roll is crisped and cheese is just melted. Remove from heat, cut in half, and serve immediately.
Information
Category

Main Dishes, Sandwiches

Cuisine

North American