'Wich of the Week: Hawaiian Pizza Sub
'Wich of the Week: Hawaiian Pizza Sub
I'm surprised how many people share my affinity for pizza topped with Canadian bacon and pineapple. While I will happily devour many, many slices of Hawaiian pizza, it seems like an unlikely popular favorite. But to my delight, the yummy combo endures, so I figured why not turn the pizza toppings into a ridiculously easy sandwich? This Hawaiian pizza sub would be even better with fresh pineapple, but since it's out of season, I bought canned. To make up for it, I made the tomato sauce from scratch, though any premade marinara will do fine. The key is finding a great, soft sub-sandwich roll that will toast nicely without being hard to sink your teeth into. If you like Hawaiian pizza, you will devour these things almost as quickly as it takes to make them — that is, really fast. To get the recipe and step-by-step photos, read more.
Hawaiian Pizza Sub
Original recipe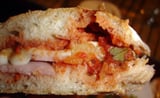 Ingredients
2 soft French rolls or similar soft roll
1/4 cup marinara sauce (homemade or store bought)
8 slices of Canadian bacon
6 slices of canned pineapple, cut into chunks
6 slices of fresh mozzarella cheese
1/4 cup grated Parmesan cheese
Directions
Preheat oven to 400°F.
Slice the rolls in half horizontally and lay both sides flat on a baking sheet.

Coat the bottom half of each roll with half of the marinara sauce. Divide the Canadian bacon evenly between the two sandwiches and lay on top of the pizza sauce. Scatter the pineapple chunks over the bacon, and top each sandwich with three slices of mozzarella.

On the top half of each roll, spread the remaining marinara sauce, and sprinkle with Parmesan.
Keeping the rolls open-face, place the sandwiches in the oven and cook for 10 minutes, until cheese is melted and the bread's edges start to brown.

Cut in half and serve hot.
Makes 2 sandwiches.
Information
Category

Main Dishes, Sandwiches

Cuisine

North American