'Wich of the Week: 'Ino's Pancetta, Lettuce, and Tomato
'Wich of the Week: 'Ino's Pancetta, Lettuce, and Tomato
I've let Nancy Silverton's Sandwich Book languish on my desk for too long, so this weekend I finally decided to make a recipe from this famously excessive sandwich collection. (Stay tuned for a full cookbook review.) Since I was having friends over for a casual dinner, I avoided the more labor-intensive recipes in favor of a simple but delicious sandwich that would showcase the fresh tomatoes I bought that morning at the farmers market. This PLT — pancetta, lettuce, and tomato — is a variation on the classic BLT (from New York's 'Ino) using Italian pancetta and arugula. Silverton's book is designed so that, if you choose, you can prepare each ingredient without shortcuts — for instance, braising artichokes rather than buying jarred ones or even making bread from scratch. Since the recipe called for it, I opted to make my own lemon aioli from Silverton's recipe. But despite my ambition, this dinner ended up being something of a disaster. To find out why,
.
Though I followed the directions for baking the pancetta in the oven, my very fatty (and delicious) cuts of pork weren't crisping up enough, so I transferred them to the broiler with the intention of leaving them in just a few more minutes. But you know I mentioned I was having folks over for dinner? Well, I got a bit distracted and forgot about the pancetta until it was too late; the gourmet meat burned to a crisp. (I documented the disaster in the gallery below.) I salvaged enough to make one PLT, but the other guests got TLTs, made with turkey I happened to have on hand. (You can see the turkey lurking in the background of the photos.) Given, the sandwiches were still tasty, even with turkey. Drizzling the tomatoes with olive oil and sprinkling them with kosher salt really brought out the summery flavor, and the lemon aioli tasted tangy, garlicky, and remarkably fresh. I substituted soft ciabatta for the sliced sourdough, and the pillowy bread went wonderfully with the Italian flavors. So I definitely recommend the recipes, with one caveat: It's better if you don't burn the pancetta.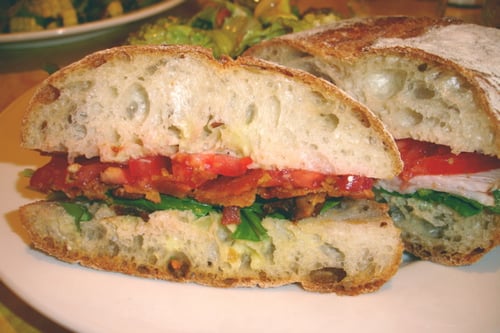 'Ino's Pancetta, Lettuce, and Tomato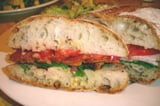 Ingredients
1 recipe lemon aioli
8 ounces pancetta, sliced into 16 1/4-inch-thick slices
1 tablespoon extra-virgin olive oil, for drizzling over the tomatoes
2 or 3 ripe tomatoes, core end discarded, sliced into 1/4-inch-thick slices
1/2 tablespoon kosher salt
8 slices white or whole-wheat sourdough bread*
Approximately 2 cups arugula leaves, loosely packed (about 1 to 1 1/2 ounces)
Directions
Adjust the oven rack to the middle position, and preheat the oven to 350 degrees.
Place the slices of pancetta about 1/2 inch apart from each other on a baking sheet. Cook them for about 20 minutes, until they're cooked through, but not crisp.
Drizzle the olive oil over the tomato slices, and sprinkle them with salt. Allow them to sit for 5-10 minutes.
Grill the bread.
To assemble the sandwiches, spoon about 1 tablespoon of lemon aioli on one side of each slice of bread. Arrange the slices of pancetta on the bottom slices of bread, and place the tomato slices over it. Arrange the arugula on top and cover with the top slice of bread. Cut each sandwich in half on the diagonal.
Makes 4 sandwiches.
*I used one loaf of ciabatta, sliced horizontally, then cut into four separate sandwiches. Since I was using the ciabatta I skipped step 4 and left my bread untoasted.
Information
Category

Main Dishes, Sandwiches

Cuisine

Italian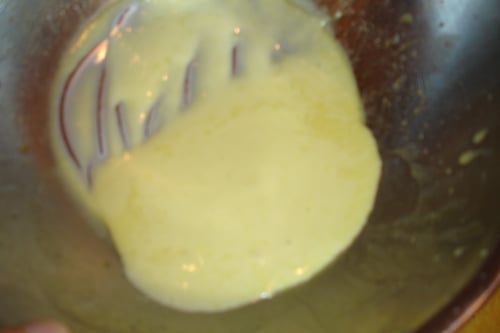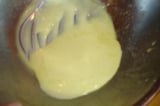 Ingredients
2-3 garlic cloves, peeled and chopped (about 1 tablespoon)
1 teaspoon kosher salt
1 extra-large egg yolk
1 cup extra-virgin olive oil, or 1/2 cup extra-virgin olive oil and 1/2 cup vegetable oil
2 1/2 tablespoons fresh lemon juice
2-3 teaspoons warm water
1 teaspoon lemon zest
Directions
Using a mortar and pestle, pulverize the garlic and salt to a smooth paste. If you don't have a mortar and pestle, smash the garlic with the flat side of a chef's knife or a garlic press.
If your mortar is too small to whisk the entire amount of oil in (or you don't have one), transfer the mashed garlic and salt to the bowl of an electric mixer or a medium stainless-steel bowl. Whisk in the egg yolk by hand.
Slowly drizzle in the olive oil, drop by drop, whisking constantly. As the mixture begins to thicken, add a teaspoon of lemon juice and a teaspoon of warm water.
Once you've added almost half of the oil, place the bowl in the mixer fitted with a whisk attachment and mix on medium speed. Or continue to whisk in the oil by hand. Pour the oil in a slow, steady trickle, scraping down the sides of the bowl as necessary.
As the mixture thickens, add a little more of the lemon juice and water and continue whisking until the remaining olive oil is completely incorporated and the sauce is thickened. Season with lemon juice and zest and salt to taste.
Makes about 1 1/2 cups.
Information
Category

Other, Condiments/Sauces

Cuisine

Italian