'Wich of the Week: Mediterranean "PB&J"
'Wich of the Week: Mediterranean "PB&J"
When I opened my fridge the other day and saw fig preserves and almond butter, I thought, "that's like the Mediterranean equivalent of peanut butter and jelly!" Remembering that I also had a block of feta cheese, I took that glimmer of an idea and came up with something weirder: a Mediterranean-inspired marriage of a PB&J and a grilled cheese. I spread the fig jelly and almond butter on apple-walnut bread (though any sweet bread, such as cinnamon raisin, would do). Then, I added some crumbled feta and grilled it in a skillet coated with olive oil. I figured the flavor combination would either be totally gross or totally good, and thankfully, it was the latter. This 'Wich of the Week is at once creamy, nutty, salty, and sweet. If that sounds like your sort of sandwich, check out the recipe and more photos when you
.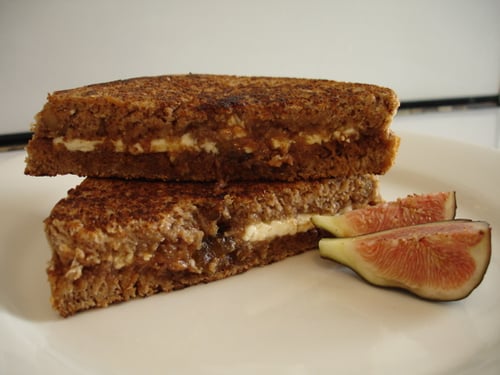 Mediterranean "PB&J"
Original recipe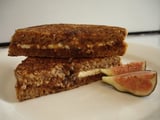 Ingredients
2 slices apple-walnut, cinnamon-raisin, or other sweet bread
1 tablespoon fig preserves
1 tablespoon almond butter
1 ounce feta cheese, crumbled
1 tablespoon olive oil
Directions
On one slice of bread, spread the fig preserves; on the other slice, spread the almond butter.
Sprinkle the feta cheese on top of the fig preserves, and top with the remaining slice of almond buttered bread, closing to make a sandwich.
Heat the olive oil in a skillet over low heat. Place the sandwich in the skillet and flip once to coat both sides with olive oil.
Cook the sandwich for about 2-3 minutes per side, until bread is golden brown and cheese is melted.
Cut in half and serve.
Makes 1 sandwich.
Information
Category

Main Dishes, Sandwiches

Cuisine

Mediterranean/Middle Eastern