'Wich of the Week: Navajo Taco
'Wich of the Week: Navajo Taco
Countless sandwiches are native to America, but the Navajo Taco is a Native American sandwich in the strictest sense of the word. Made by piling New Mexican taco fixings onto traditional Navajo frybread, this scrumptious sandwich is a specialty of Arizona, so on a recent trip to Phoenix, I stopped by The Fry Bread House to do some firsthand research. My first question, of course, is why a Navajo Taco — also called an Indian Taco — is considered a sandwich rather than a taco. The crucial distinction is that tacos are made with tortillas and sandwiches are made with bread — in this case, Navajo fry bread, which tastes like a cross between a thick fried pita and funnel cake without the sugar. Indian tacos are typically filled with beans, ground beef, or a combination of both; I opted for refried beans, flavored with strips of New Mexico green chiles. Salivating yet? For the juicy details and a recipe,
. The taco arrives swaddled in paper, tidily tied up at the top. But undo the paper, and the enormous sandwich spills open to reveal a bouncy cushion of fry bread about the size of a frisbee, coated with smooth red salsa, beans and onions, iceberg lettuce, and shredded cheddar cheese. I thought about eating it with a knife and fork, but I'm glad I didn't, because the fry bread only gets tastier when folded around the filling, deliciously deflated of air as it soaks up the saucy mess. In this case, the toppings weren't anything special: I kind of wished the cheddar cheese were melted, and I added a healthy helping of hot sauce.
But the main selling point is the fresh-from-the-pan fry bread, and it did not disappoint. I devoured the whole enormous lunch in spite of my promise to myself that I wouldn't.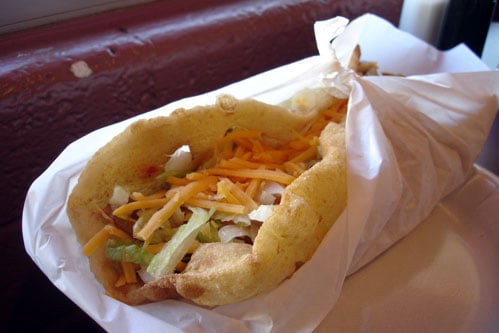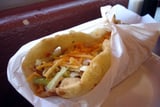 Ingredients
For the tacos:
1 1/2 pounds ground beef
1 cup refried beans
6 round fry bread pieces, recipe follows
1/2 pound cheddar cheese, grated
1 head lettuce, shredded
3 tomatoes, chopped
1 onion, chopped
Salsa, optional
1 (3-ounce) can diced green chiles, drained
For the fry bread:
2 cups unsifted all-purpose flour
1/2 cup dry milk solids
2 teaspoons double-acting baking powder
1/2 teaspoon salt
2 tablespoons lard, cut into 1/2-inch bits, plus 1 pound lard, for deep frying
Directions
Make the fry bread: Combine the flour, dry milk solids, baking powder, and salt, and sift them into a deep bowl.
Add the lard bits and, with your fingertips, rub the flour and fat together until the mixture resembles flakes of coarse meal.
Pour in the water and toss the ingredients together until the dough can be gathered into a ball. Drape the bowl with a kitchen towel and then let the dough sit at room temperature for about 2 hours.
After sitting, tear the dough into 6 equal pieces. Then, on a lightly floured surface, roll each dough ball into a circle about 4 inches in diameter and 1/4-inch thick. With a small knife, cut 2 (4- to 5-inch) long parallel slits completely through the dough, down the center of each rolled piece, spacing the slits about 1-inch apart.
In a heavy, 10-inch cast iron skillet, melt the remaining pound of lard over moderate heat until it is very hot but not smoking. The melted fat should be about 1-inch deep; add more lard if necessary.
Fry the rolled dough, 1 at a time, for about 2 minutes on each side, turning them once with tongs. The bread will puff slightly and become crisp and brown.
Drain the Navajo fry bread on paper towels and serve warm.
To make the tacos: Brown the ground beef in a saute pan. At the end, add refried beans to heat.
Divide equally onto 6 fry bread rounds. Top with cheese, lettuce, tomatoes, green chiles, onions, and salsa, if desired.
Makes 6 4-inch round tacos.
Information
Category

Main Dishes, Sandwiches

Cuisine

North American