'Wich of the Week: Open-Face Balsamic Egg
'Wich of the Week: Open-Face Balsamic Egg
One of my favorite SF brunch spots, Foreign Cinema, has a balsamic egg dish I've always wanted to recreate at home. Deglazing the fried egg in vinegar gives it a gentle saltiness that tastes gourmet and — I must admit — is highly suitable for hangovers. But instead of serving it with potatoes and greens like the restaurant does, I put a twist on the egg dish by making it into a sandwich. As I suspected, the flavors were easy to reproduce on my own plate with some balsamic-reduction sauce, hearty multigrain bread, and mixed greens. I made two versions of the sandwich: one open-face with greens, and one closed-face with serrano ham. I preferred the open-face, without meat, which allowed the rich flavor of the balsamic egg to take center stage. To get the recipe (with both options) and more photos,
.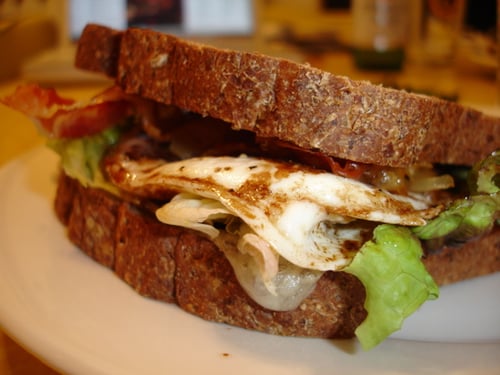 Balsamic Egg Sandwich
Original Recipe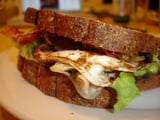 Ingredients
2 slices swiss cheese
2 to 4 slices multigrain bread
3 very thin slices of Serrano ham, cut into strips (optional)
1 tablespoon butter
2 large eggs
2 tablespoons balsamic vinegar reduction sauce
2 cups mixed baby greens, loosely packed
Directions
Preheat the oven to 250°F.
Place two slices of swiss cheese on each of two pieces of bread.
Place the two cheese-covered slices of bread in the oven, plus two more pieces of bread if you want a closed-face sandwich. Cook for about 5 minutes or until cheese is just melted.

In a skillet over medium-low heat, cook Serrano ham until crispy, turning once, about 5 minutes.
Turn burner to low, add the two eggs, and cook sunnyside up. Alternately, if not using the ham, melt 1 tablespoon butter over low heat, then add the eggs.
When the yolks have just started to firm up but are still runny, drizzle the balsamic reduction sauce atop the eggs. Place a lid over the skillet and cook for an additional 30 seconds. Remove from heat.

On each piece of cheese-topped bread, add 1 cup mixed greens and top with the fried egg. If using the ham, top each egg with the Serrano ham and a second slice of bread.
Makes 2 open-face or closed-face sandwiches.
Information
Category

Main Dishes, Sandwiches

Cuisine

North American