'Wich of the Week: Pastrami Reuben
'Wich of the Week: Pastrami Reuben
Not only is the Reuben one of my favorite sandwiches, but it's also sort of magical, since it takes three ingredients I'm not wild about (corned beef, rye bread, and thousand island dressing) and turns them into deliciousness. But since I rarely eat thousand island dressing, it ends up spoiling every time I buy it to make Reubens. So to meet my latest craving for this classic sandwich, I altered the recipe slightly, replacing the dressing with spicy mustard and the corned beef with pastrami. Pastrami is actually a variation on corned beef that involves smoking the meat. It's typically paired with mustard so this Reuben borrows flavors from two familiar sandwiches. Though I couldn't give up the sweet thousand island dressing forever, I must admit that this saltier Reuben was quite delectable. To get the recipe,
.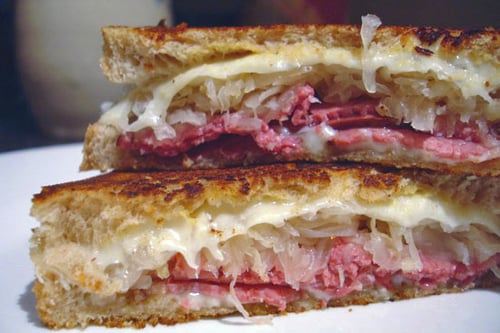 Pastrami Reuben
Original recipe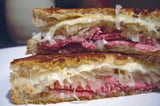 Ingredients
2 slices of rye bread
1 tablespoon butter
1 tablespoon spicy mustard
2 slices swiss cheese
3 slices pastrami
1/4 cup sauerkraut
Directions
Butter one side of each piece of bread.
On the other side of each slice, spread a liberal amount of spicy mustard.
On the mustard-coated side of one slice, lay a slice of swiss cheese, followed by three slices of pastrami.
Using a fork to drain off the liquid, distribute the sauerkraut evenly atop the meat.

Top the sauerkraut with another slice of swiss, and lay the second slice of bread, mustard-side down, on top of the cheese.
In a skillet over medium-low heat, grill the sandwich, turning once, until both sides are golden brown and cheese is melted.

Slice in half and serve.
Makes 1 sandwich.
Information
Category

Main Dishes, Sandwiches

Cuisine

North American