'Wich of the Week: Pulled Pork Sandwich
'Wich of the Week: Pulled Pork Sandwich
Unlike my past 'Wich of the Week recipes, this sandwich depends not on a perfect blend of flavors or expert construction, but on a single, superb ingredient served without flourish. In this case, it's pulled pork, and not just any pulled pork — this recipe comes from renowned chef Michael Mina, and it's mouth-wateringly good. The pork is incredibly easy to make: You just coat a pork shoulder with Mina's special rub and slow-cook it for about five hours. It will be so tender when it's done that you barely need to make an effort to shred it, and the pork is moist and flavorful enough that you can skip the barbecue sauce. I served mine on basic white dinner rolls and added some homemade coleslaw for an extra kick. To find out how to make it,
.
Michael Mina's Pulled Pork Sandwich
From Esquire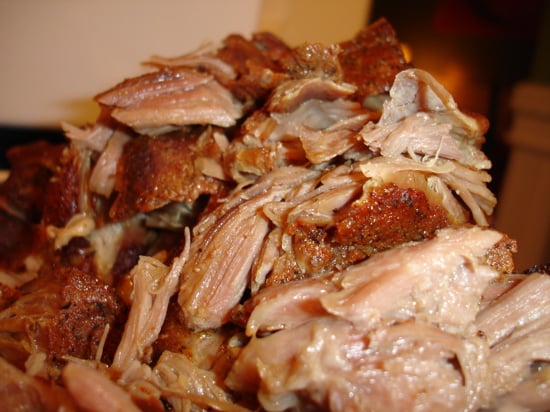 Serves: 6 to 8
Prep time: 5 minutes
Seasoning time: at least 1 hour
Cooking time: 5 1/2 hours
1/4 cup dark brown sugar, lightly packed
2 tbsp kosher or coarse salt
2 tbsp paprika
1 tbsp ground black pepper
1/2 tbsp ground coriander
1/2 tsp dry mustard (found in spice section)
1/2 tsp onion powder
1 boneless pork butt, about 3 pounds
1 1/2 cups apple juice
1/2 cup water
1 package plain soft white rolls or other bread
Tip: You can buy bone-in or boneless pork butts. Both have their benefits: Cooking bone-in will contribute some flavor (and increase the cooking time slightly). But if you have your butcher take out the bone, you can rub the spice mix into the incisions where the bone was removed — a great way to get the flavor deep inside the meat.
To make: Mix brown sugar and dry spices together in a small bowl. Rub all over pork, cover, and let sit in the refrigerator for as long as you have time for (as little as 1 hour or up to overnight). Preheat oven to 300 degrees. Lay pork on a rack insert fitted inside a roasting pan. (The rack should be high enough so the entire spiced butt is sitting above the cooking liquid.) Pour in apple juice and water, cover pan tightly with foil, and slow roast for five hours. Remove foil and cook for another 30 minutes, until pork is brown outside and meat is very tender, basically falling apart.
Remove from oven, transfer to large platter, and allow meat to rest for about 10 minutes. While still warm, shred pork into small pieces using 2 forks or 10 fingers. Transfer to bowl for serving, or cover and refrigerate for up to 2 days. To reheat, just transfer to shallow baking dish, bring to room temperature, and place in preheated 350 degree oven for 15 minutes.
To serve: Sandwich between rolls and partner with classic barbecue side dishes like bourbon-baked beans or jalapeno creamed corn. Esquire's note: We ended up with six sandwiches.