Store-bought rotisserie chicken is one of the tastiest culinary shortcuts around. It's incredibly moist and flavorful, but all you have to do to prepare it is pull the meat off the bird. Since I love leftover sandwiches, I combined my current passion for chutney and bread-and-butter pickles with some excess chicken from a recent dinner. The mango chutney, salty-sweet pickles, and smoky chicken come together to create a perfectly provocative bite, while the melted swiss and sprouts hold the potentially slippery sandwich in place. It's a ridiculously easy meal you can make in minutes, but the flavors are anything but simple. To get the recipe and step-by-step photos,
.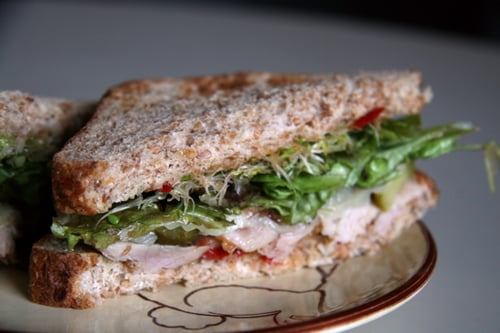 Rotisserie Chicken, Chutney, and Swiss Cheese Sandwich
Original Recipe
Ingredients
2 slices whole-wheat or multigrain bread
2 tablespoons mango chutney
Rotisserie chicken, dark and white meat, enough to cover one slice of bread
6 bread-and-butter pickle slices
1 slice swiss cheese
1 piece of red leaf or romaine lettuce
1/4 cup alfalfa sprouts
Directions
Preheat oven to 350°F or set toaster oven to "medium."
On one slice of bread, spread one tablespoon mango chutney. Arrange desired amount of dark and white meat of chicken on top.

Place 6 pickle slices on top of the chicken, and lay the swiss cheese over the pickles.

Place both slices of bread and toppings into a toaster oven or 350°F oven for about 5 minutes, until cheese is melted and bread is lightly toasted.
Lay lettuce leaf over the cheese, follow by the alfalfa sprouts. Slather remaining tablespoon of chutney on the second slice of bread, place atop the sprouts, and cut in half to serve.
Makes 1 sandwich.
Information
Category

Main Dishes, Sandwiches

Cuisine

North American