'Wich of the Week: Salami and Pickle Party Sub
'Wich of the Week: Salami and Pickle Party Sub
Perhaps it's no surprise that when I host a party, I like to serve some type of sandwich. (You know, like a Caesar wrap at an Ides of March party.) The easiest thing to do is make one long party sub then slice it into individual servings. If you're serving the sandwich as a way to soak up booze (which is often the case at my parties), you can't go wrong with a salty but simple combination of salami, cheese, and pickles. Though rather minimalist in its ingredients, this sub is incredibly easy to prepare, and your guests will gobble it up. Plus, the lack of any wet components, aside from a smear of mustard, means no messy sauces dripping all over your house. The crunchy pickles, creamy cheese, and decadent salami keep the sandwich from being dry. To get the recipe,
.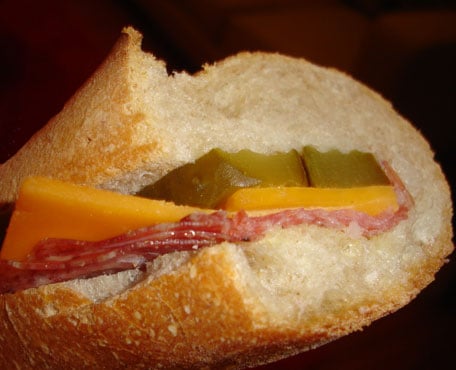 Salami and Pickle Party Sub
Original recipe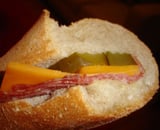 Ingredients
2 rustic baguettes, sliced lengthwise
3 tablespoons Dijon mustard
1/4 pound salami
1 8-oz. pack of presliced sharp cheddar cheese
60 bread-and-butter pickle slices for sandwiches
Directions
Coat the bottom half of each baguette with 1 1/2 tablespoons mustard (or more to taste).
Evenly distribute the salami over the mustard-coated slices, so that you have a single layer of salami on each baguette.
Cut each cheese slice diagonally in half to make two triangles. Distribute the cheese triangles evenly atop the salami.
Arrange the pickle slices on top of the cheese, so there is a single layer of pickles covering the cheese.
Top each ingredient-covered slice with the other half of baguette.
Slice each loaf into 10 servings and lay on a platter.
Serves 20.
Information
Category

Main Dishes, Sandwiches

Cuisine

North American