'Wich of the Week: Shrimp Rémoulade Po'Boy
'Wich of the Week: Shrimp Rémoulade Po'Boy
I love a good leftover sandwich, so after whipping up shrimp rémoulade the other night, I made sure to save some shrimp and sauce for a second dinner, sandwiched inside a crispy, sweet baguette. The flavor of the rich, robust rémoulade against the flaky French bread and cool, fresh shrimp was so yummy I wish I'd made sandwiches the first time around, rather than just serving the baguette on the side. The recipe is equally easy as a from-scratch sandwich or a leftover reinvention. As with the rémoulade recipe, you can make the sauce a day in advance and let the taste intensify over time. Though I used butter lettuce, you could also dress it with shredded iceberg or romaine. The most important thing is finding a perfectly fresh baguette (or freshening up the bread you bought the day before). To get the recipe,
. Shrimp Rémoulade Po'Boy
Original Recipe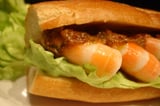 Ingredients
1 sweet baguette
mayonnaise
1/2 pound whole fresh shrimp, peeled, deveined, and boiled
1/2 cup rémoulade sauce
6 leaves butter lettuce
Directions
Makes 2 sandwiches.
Preheat oven to 300°F. Cut the baguette in half lengthwise, then slice it in half horizontally. When the oven is hot enough, place the four baguette slices inside and warm them for five minutes. Remove from oven.
On two of the baguette slices, spread the desired amount of mayonnaise, and cover with lettuce leaves.
Evenly distribute shrimp between the two halves of baguette and place it on top of the lettuce.
Over each shrimp-topped slice, spoon 1/4 cup of rémoulade sauce. Top with remaining two baguette slices and serve.
Information
Category

Main Dishes, Sandwiches

Cuisine

Cajun/Creole