'Wich of the Week: Soy-Ginger Chicken Sandwich
'Wich of the Week: Soy-Ginger Chicken Sandwich Like grilled cheese or my daily turkey creation, a chicken sandwich is something I never get sick of. When cooked just right and constructed well, a chicken breast on a bun makes for a simple but delicious meal. To make this old standby slightly more exciting, all you need is an interesting marinade, and since I've been wanting to do a chicken 'wich for weeks, I decided to experiment with a soy-ginger glaze.
Aiming for a richer chicken sandwich than usual, I used thigh meat instead of breast. Because you marinate and sauté the chicken in a tangy soy-ginger mixture, it's so moist that you hardly need any other condiments, though I added a bit of mustard, plus lettuce, tomato, and onion for texture. To enhance the sweetness, I served mine on Dutch crunch rolls, though any roll will do. To get the recipe,
.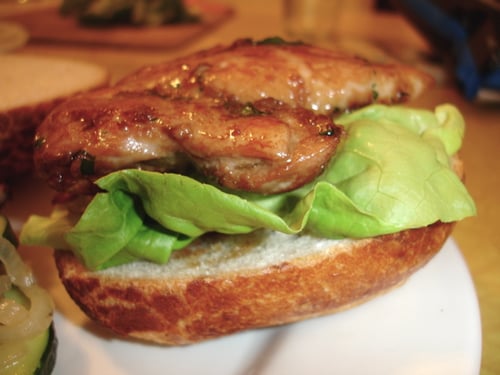 Soy-Ginger Chicken Sandwich
Original Recipe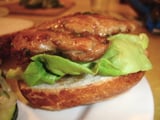 Ingredients
For the glaze
1 Tbsp freshly grated ginger
1 Tbsp minced garlic
1/2 tsp red pepper flakes
1/2 tsp sriracha sauce
2 Tbsp sesame oil
2 Tbsp rice wine vinegar
2 Tbsp hoisin sauce
3 Tbsp soy sauce
3 Tbsp vegetable oil
1 Tbsp fresh cilantro, finely chopped
For the sandwiches
4 boneless, skinless chicken thighs
4 Dutch crunch (or other type) buns
8 pieces of butter lettuce
Honey mustard, to taste
Thinly sliced yellow onion, to taste
1/2 yellow tomato, sliced
Directions
Makes 4 sandwiches.
To make the marinade, combine the first nine ingredients (everything but the cilantro) in a shallow container or Ziploc bag and seal. Allow the thighs to marinate for at least one hour and up to overnight.
In a skillet over medium heat, cook the chicken in its marinade for 5 minutes on each side. Sprinkle cilantro on top of the chicken and cook for an additional minute per side.

Remove chicken from heat and set aside.
Split the Dutch crunch rolls in half horizontally. On each of the bottom pieces, lay two leaves of butter lettuce, topped by one piece of chicken.
Evenly divide the onions and tomatoes between the sandwiches and place them on top of the chicken.

Spread a thin layer of mustard on the underside of the top half of the roll, then press the roll, mustard side down, to enclose the rest of the sandwich.
Information
Category

Main Dishes, Sandwiches

Cuisine

Other Asian