'Wich of the Week: Sunny Chicken Sandwich
'Wich of the Week: Sunny Chicken Sandwich
Sandwiches stand out for different reasons, and it often has nothing to do with gourmet ingredients or fancy sandwich shops. Sometimes, a sandwich tastes good because of the memories it evokes — hence, the proverbial PB&J like mom used to make. Other times, it's more about the sandwich experience than the sammie itself, as is the case with this week's 'wich. I recently organized a goodbye get-together for some friends who are moving cross country. Taking advantage of a sunny evening, we headed to the Alpine Inn in Portola Valley, CA, south of San Francisco. This 150-year-old roadhouse has an enormous beer garden, cheap suds, and totally no-frills food that's perfect for picnic tables. The divey joint is mostly known for greasy burgers served on flattened French rolls. The chicken sandwich was prepared pretty much the same way, except with chicken. While the soft, toasted roll was a nice touch, the most notable thing about this sandwich was the warm Summer evening and good friends surrounding it.
What sentimental sandwich experiences have you had lately? Share them and find out how to make my sunny chicken sandwich when you
.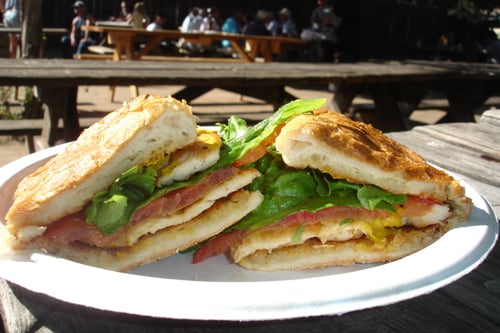 Sunny Chicken Sandwich
Inspired by the chicken sandwich at the Alpine Inn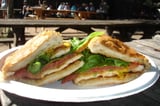 Ingredients
1 boneless, skinless chicken breast, butterflied and seasoned with salt and pepper
1 soft French roll
3 slices of tomato
3 slices of butter lettuce
Yellow mustard, to taste
Directions
Heat an outdoor grill or skillet to medium-hot. Grill chicken breast, turning once, until golden brown and no longer pink in the center, about 15 minutes.
Slice the French roll in half horizontally, and spread yellow mustard on both sides.
Lay the grilled chicken on the bottom half of the roll, followed by the tomato slices and lettuce.
Reduce heat to low, and place the roll on the grill or skillet. Heat, turning once and flattening the sandwich with a spatula, for two minutes or until roll is lightly browned.
Cut in half and serve warm.
Makes 1 sandwich.
Information
Category

Main Dishes, Sandwiches

Cuisine

North American