'Wich of the Week: Sweet Summer Grilled Cheese
'Wich of the Week: Sweet Summer Grilled Cheese Grilled cheese sandwiches are typically a wintertime comfort food, but add some summery farm-stand flavor, and this favorite sandwich adopts an easy, breezy attitude for the warmer months. I got the idea for this recipe when I scored a jar of delicious strawberry and meyer lemon marmalade from Blue Chair, which has an effervescent citrus flavor and a hint of rosiness. With fresh green pea sprouts, it transforms the grilled cheese from classic cold-weather meal into a tribute to Summer farmers markets.
If you can't find this brand of jam, try mixing a lemon or orange marmalade with traditional strawberry jam for a similar fruity flavor. The aged Irish cheddar provides a perfect salty counterpoint. To get the recipe and step-by-step photos,
.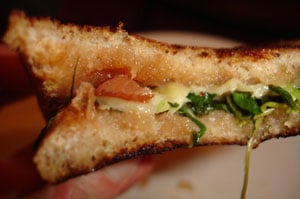 Sweet Summer Grilled Cheese
Original recipe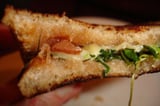 Ingredients
2 slices honey wheat bread
Butter for spreading
3 tablespoons strawberry-lemon marmalade
3-5 slices aged cheddar cheese
1/4 cup pea sprouts
Directions
On one side of each slice of bread, spread desired amount of butter. Place bread slices butter-side down on work surface. On the unbuttered side of each slice, spread 1 1/2 tablespoons of marmalade.

On one slice of the bread, place enough cheddar to cover the marmalade. Top with pea sprouts. Cover with second marmalade-coated slice.

In a skillet over medium heat, grill the sandwich for about 3-4 minutes on each side, until bread is golden brown and cheese is melted.
Makes 1 sandwich.
Information
Category

Main Dishes, Sandwiches

Cuisine

North American