'Wich of the Week: Tofu and Chinese Broccoli
'Wich of the Week: Tofu and Chinese Broccoli
With all this talk about Chinese barbecue and dim-sum Olympics parties, I've had Chinese food on the brain. So on my last trip to the farmers market, I picked up some Chinese broccoli, a yummy in-season green that tastes like a cross between asparagus, broccoli, and bok choy. After making a tofu stir-fry, I refocused the remaining ingredients into an elegant vegetarian sandwich. I used wheat bread, because that's what I had on hand, but any sliced bread will do. I also had some garlicky homemade almond butter leftover from another recipe, but if you don't want to make your own, I recommend mixing crushed garlic into regular peanut butter or almond butter for an Asian-inspired spread. To get both recipes and see how I made this tofu treat,
.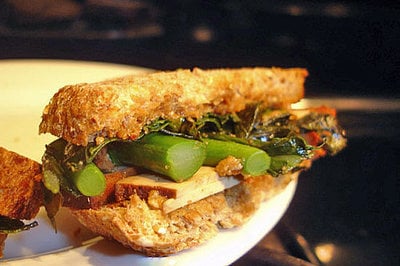 Tofu and Chinese Broccoli Sandwich
Original recipe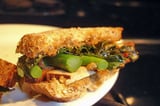 Ingredients
4 stalks Chinese broccoli, washed and ends trimmed (if you can't find Chinese broccoli, asparagus or bok choy are good substitutes)
1 teaspoon vegetable oil
1 tablespoon soy sauce
1/8 cup sake or rice-wine vinegar
2 slices wheat bread
1 tablespoon almond butter (or more to taste)
2 oz. baked tofu (such as Soy Deli Five Spice), cut into 1/4-inch slices
Directions
Preheat oven to 300°F.
In a skillet over low heat, combine vegetable oil, soy sauce, and Chinese broccoli; toss to coat.

Cook broccoli for about 5 minutes, turning frequently, until leaves start to wilt and stalks begin to brown.
To the skillet, add sake or rice-wine vinegar and cook for an additional 5 minutes, using the liquid to deglaze the pan. When the broccoli is tender, remove from heat.
Lay both slices of bread on an baking sheet or other oven safe platter. On one slice of bread, spread half the almond butter and top with the tofu slices. Using a spatula, lay the broccoli atop of the tofu, and drizzle any remaining liquid from the pan on top.

Place both slices of bread and the toppings in the oven for about 5 minutes, until bread is toasted.
Spread remaining almond butter on other slice of bread, and press it, spread-side down, onto the broccoli. Cut in half and serve.
Makes one sandwich.
Information
Category

Main Dishes, Sandwiches

Cuisine

Chinese


Ingredients
1/2 cup toasted Marcona almonds
1/2 garlic clove, chopped
Pinch of cayenne
1/2 to 1 tablespoon extra-virgin olive oil
Directions
Grind almonds to a paste with garlic, 1/4 teaspoon salt, and cayenne in a food processor. With motor running, add just enough oil to make a silky paste. Season with salt.
Makes about 1 cup.
Information
Category

Other, Condiments/Sauces