Win a Sony Smart TV holiday giveaway
15 Days of Holiday Giveaways, Day 12: Win a Sony smart TV!
It's the holiday season, and we're getting in the spirit with 15 days of amazing giveaways! Every day one of the PopSugar Network sites (plus our sister sites Fashionologie, ShopStyle, and PopSugar's FreshGuide) will feature a new giveaway. Fab is gifting a Jimmy Choo Sky patent leather and elaphe handbag; Savvy a $1,000 Starbucks Card; Casa is giving away two $500 gift cards to Design Within Reach; Yum is awarding $1,000 to Williams-Sonoma; and PopSugar's FreshGuide is giving away $100 to five lucky winners.
Starting today, Buzz is gifting two 32-inch Sony Internet TVs powered by the Intel Atom processor. Smart TV is in collaboration with Google, Sony, and Logitech and is pretty amazing. You can search online and use your personal content as well as broadcast programming all from the same TV interface. Plus, you can connect to social networks while watching favorite programs or movies, control TV with a unique new remote control or voice commands and much more! It's perfect for any entertainment junkie.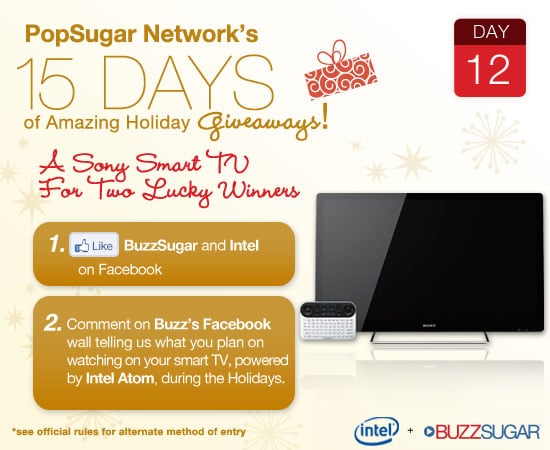 To enter, all you have to do is "Like" BuzzSugar and Intel on Facebook, and then comment on Buzz's Facebook wall telling us what you plan on watching on your smart TV, powered by Intel Atom, during the holidays. How easy is that? Check out the official rules here. The giveaway is only open for a week, so act now! Also, you won't want to miss any of our other fabulous giveaways, so stay tuned every day and enter them all. Good luck and happy holidays.