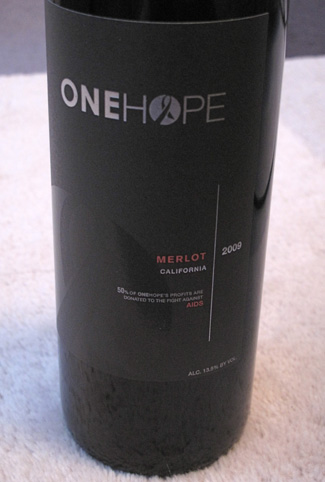 What's better than enjoying quality wine? Only, I'd argue, enjoying wine for a greater cause. Although wine auctions at charity benefits are one way to do it, there's an even easier way: get acquainted with a wine label that donates to various charities.
Take note of OneHope, a brand that aims to give back to different causes with the purchase of every wine bottle. I had the pleasure of meeting Jake Kloberdanz, the visionary behind the wine, who told me about his partnership with Robert Mondavi Jr., OneHope's various varietals, and the charitable efforts tied to each, from breast cancer to AIDS to a cause especially close to Jake's heart, autism.
My favorite? The light-bodied Merlot ($19), an almost fuchsia-hued treat that smelled of jalapeño peppers and evoked flavors of everything from jammy cherries to smoky cumin and green bell peppers. I was most shocked by its unlikely food pairing: a red gazpacho that brought out all the wine's fresh, light notes. It doesn't hurt that 50 percent of profits from each bottle go to AIDS/Lifecycle either. What do you think of OneHope and wines for charity in general?