Wine Review: 2009 Chateau Le Touzinard Bordeaux Rouge
Happy Hour: 2009 Chateau Le Touzinard Bordeaux Rouge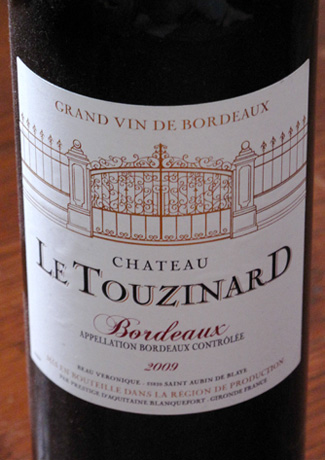 Say "Bordeaux" and you'll scare away many everyday wine drinkers who associate it with $2,000 bottles of Lafite. But not all wine from the region is expensive, precious, or rare; in fact, much of it is impressively affordable (as Bordeaux is the largest wine-producing region in France) and not half bad.
The key, I've discovered, is finding quality Bordeaux AOC and Bordeaux Superior AOC offerings, basic-level wines that still embody the character of the region. I found a recent steal, 2009 Chateau Le Touzinard Bordeaux, on sale at Whole Foods for a paltry $10, as part of a promotion they'd launched offering an early taste of the 2009 vintage. It's one of their outstanding selections that comes from a "petit château," a small, family-owned property.
The shocker about this wine was the fact that it was smooth, medium-bodied, and structured, yet still easy to drink on its own. I attribute that to its incredibly fruity nose, which evoked images of ripe, jammy plums, tart cherries, and cigar box spice, and its pleasant level of acidity. It's a great everyday wine for food, or without. What's your favorite Bordeaux wine?