Wine Review: 2009 Eco.Love Riesling
Happy Hour: 2009 Eco.Love Riesling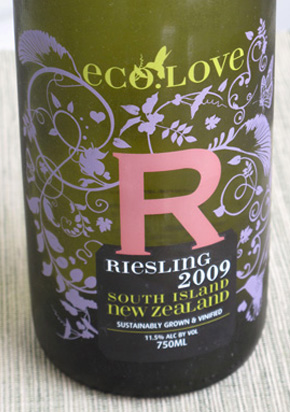 As the weather warms up, it's natural to gravitate toward crisp, clean New Zealand whites, as they're both refreshing and easy to drink on their own, and perfect as a pick-me-up on a weekend excursion or a sunny Summer afternoon. One new label to look for that easily fits that bill — and then some — is Eco.Love Wines.
Eco.Love hails from the country's South Island. Rather impressively, it focuses exclusively on grapes that have been sustainably farmed and produced in the country's first-ever carboNZero winery. The founders even purchase carbon credits to offset the company's CO2 emissions. But I was equally taken by their Riesling's layers of fruit: peach skins and petrol on the nose to start, followed by a puckery citrus and green apple palate, then a gooseberry finish.
As I dusted off more than a glass or two, I couldn't help but conjure up the ideal food pairing: lemon and pepper shrimp skewers, hot off the grill. At $17, I think I can fulfill that dream sometime very soon. Do you have a favorite earth-friendly wine?