Wine Review: 2009 Mulderbosch Chenin Blanc
Happy Hour: 2009 Mulderbosch Chenin Blanc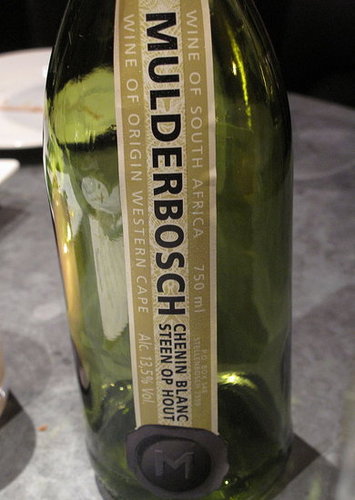 Whether it's Spain or the Netherlands taking top prize this Sunday, the World Cup will undoubtedly end with a spectacular bang, not a whimper. To ensure you have fun as a spectator — regardless of whether or not your team wins — have some solid South African wine in your drinking glass.
Since it's so hot outside, I'd skip the red wine in favor of a white that the country produces quite well: Chenin Blanc. Often known there by the name of Steen, this variety has a reputation for being bland, flabby, or sweet — but not when it's done right, as it often is in South Africa.
Recently, I tried an accessible version by Mulderbosch, one of the most notable wineries in the nation.
It was dry, but not bone-dry, with pleasant notes of lemon and lime, and a nice amount of body. On the nose, it smelled exactly like jalapeños, in a pleasantly smoky way. And for well under $20, I consider it to be a spectacular value. What South African wines are you drinking in celebration of the World Cup?