Wine Review: 2010 Spy Valley Gewurztraminer
Happy Hour: 2010 Spy Valley Gewürztraminer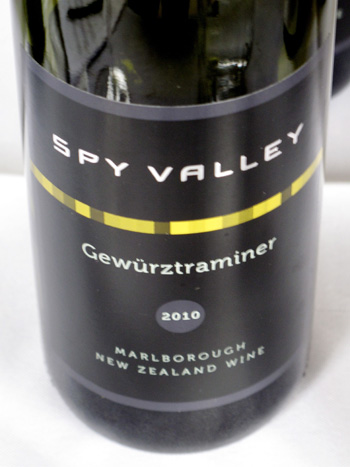 I've had a longtime love affair with the wines of New Zealand, not only for their affordability, but also for their lack of pretension. From Babich to Kim Crawford, I've quaffed my share of Sauvignon Blanc from the famed Marlborough region, but at a trade tasting yesterday, I got my first taste of the area's fine Gewürztraminer.
There was only one Gewürzt on pour, a 2010 Spy Valley, but it's quality, not quantity, that counts. The creamy, soft, and highly aromatic wine nearly won me over before it hit my lips, arresting me with its intoxicating scent of soft garden roses, ripe peaches, and just-peeled lychees. In one word, it reminded me of Spring. And at just $20 retail, I could easily envision the white paired with my favorite Thai and Burmese takeout.
New Zealand isn't quite as known for its Gewürztraminer as it is for Riesling and Sauvignon Blanc, but it's enjoyed some growth over the past several decades. Here's to hoping we see more of it stocked on wine shop shelves stateside. What's your favorite New Zealand white?