Wine Styles: Syrah vs. Shiraz
Burning Question: How Does Shiraz Differ From Syrah?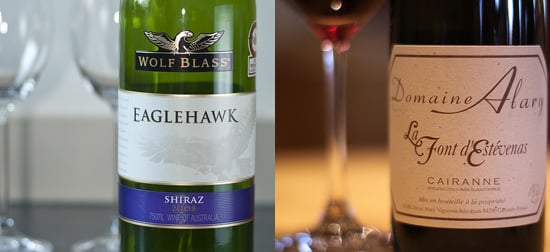 If you're a red wine drinker, chances are, at some point you've come across Syrah, Shiraz, or both. Have you, like me, ever wondered what the exact difference is between the two? Syrah and Shiraz are different names for the same varietal, which comes from a dark-skinned red grape that grows well in warm climates worldwide. The way the grape is spelled tends to be an indicator of the wine's origin.
To learn where Syrah and Shiraz originate and the difference between the two, keep reading.
Generally, European wines are labeled Syrah, while Australian wines are labeled Shiraz. Syrah (pronounced "sih-rah") is the term used for Hermitage that comes out of France's Northern Rhône region; these bottles tend to be spicy, peppery, and smoky, with leather and tar flavors. The name is also used to in other parts of Europe, South America, New Zealand, and the United States.
In contrast, the word Shiraz (pronounced "shih-rahz") has unclear origins, but is commonly used for the same grape in Australia, where the wine is more inclined to taste jammier and fuller-bodied, with more power and alcohol content.
The Shiraz spelling is also found in South Africa and Canada. Some wineries make both a Syrah and a Shiraz; in this situation, the spelling is more often than not an indicator of the wine's style. Syrah yields more spice and finesse, while Shiraz insinuates a concentrated, fruit-forward wine.
Looking for clarification on something culinary? Join the Burning Question group in the YumSugar Community, and ask us your biggest questions.
Source: Flickr Users Michal Osmenda and jenny downing