Winter Fruit: Blood Oranges
In Season: Blood Oranges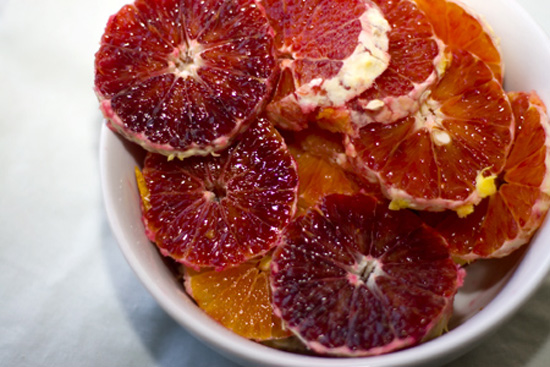 During shorter days, I look forward to locating pomegranates and persimmons, like I do cherries and plums during Summer. But, more than any other, the cold-weather clincher that draws me in every Winter is the blood orange. Find out why they're so great — and how to enjoy them — when you read more.
Blood oranges are to standard oranges what Meyer lemons are to regular lemons. They're sweeter and less acidic, with more floral notes. The skins of these fruits, which grow in the Mediterranean and southwestern United States, have a twinge of blush, and slicing one open reveals a color that's anywhere from pink to a True Blood- and Twilight-esque vampy red.
Depending on variety, these puppies are at their peak anywhere from December to May. When selecting, don't worry about external blemishes; instead, pick blood oranges that are firm and heavy for their size. They'll last a couple of days at room temperature — but up to two weeks in the fridge. In addition to being a treat to eat on their own, these wintertime jewels are fun to experiment with in the kitchen. A few ideas:


How do you use blood oranges?
Source: Flickr User shivery