Wolfgang Puck, Gordon Ramsay, David Chang Plan to Expand to London, Montreal, Sydney
London, Sydney, Montreal: US Celeb Chefs Eye Global Markets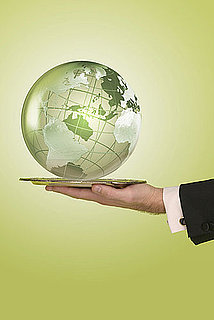 Move over, New York: America's top celebrity chefs see the world as their oyster, with global culinary hotspots like Sydney, London, and Montreal ripe with opportunity. This morning, Wolfgang Puck announced his inaugural European venture, a restaurant in London's sleek 45 Park Lane hotel, with contemporary steakhouse offerings.
Meanwhile, Gordon Ramsay announced he'll be taking ownership of Rotisserie Laurier BBQ, a barbecue restaurant in Montreal — the celebrity chef's first-ever foray into Canada. And rumors are abuzz that David Chang has signed a deal for Momofuku to land in Sydney.
As diners begin to open up their wallets again, American celebrity chef restaurateurs have begun considering expansions beyond stateside meccas like Las Vegas and Atlantic City.
For years, Ramsay has been "heavily considering" putting his stamp on Canada, and Puck describes London as being one of the "biggest cities for dining in the Western world right now." As for Chang? He's "infatuated" with Australia, describing it as "a place [he] could move to."
Will our country's top chefs fare in a city where they don't share the same clout as they do in America? Only time will tell.