Wyndham Estate Bin 222 Chardonnay Review
Wine of the Day: 2009 Wyndham Estate Bin 222 Chardonnay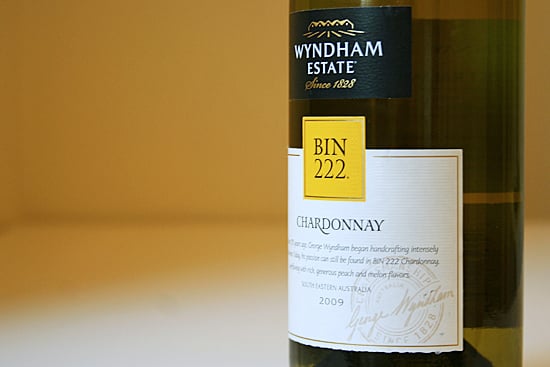 In addition to obsessing over anything grilled, we've spent the majority of this Summer seriously saluting the kernel. You know what we've discovered? Sure, corn tastes great when topped with crema and cotija cheese, but it tastes even better when paired with the perfect white wine.
One of these wines is Wyndham Estate's Bin 222 Chardonnay. Like a charred cob with a knob of sweet cream, this white is buttery, caramelly, and sweet on the side of the palate; it finishes warm, with hints of hazelnut and cardamom.
I'll be the first to say I'm not a fan of oaked Chardonnays, but this rendition was admittedly pretty easy to drink. Others quickly concurred: "I'm not a fan of the varietal — particularly oaked Chardonnays — but this is actually nice," one taster said. "It's a nice blend of dry and sweet flavors. I really love this," another added. And just about everyone was shocked to learn of the wine's $10 price tag: we were easily willing to pay $20 for a bottle of this!
We're dreaming of enjoying it again very soon on a relaxed night at home, when we're looking for a wine to make the meal but that won't break the bank. Oh — and with some of our grilled corn on the cob, of course.
Photos: Anna Monette Roberts