Xocolatl de David's Chicharron Chocolate
Would You Buy Chicharron Chocolate?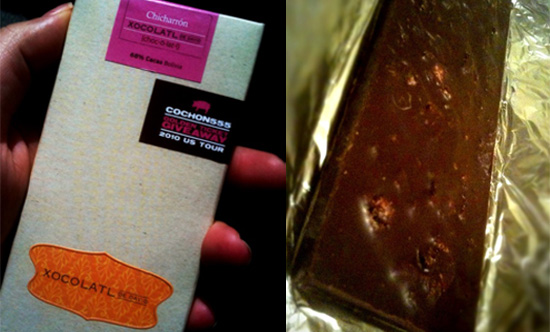 Chocolate bacon bars are so 2008. And barbecue sauce-flavored truffles? Those are so two weeks ago. Meet the newest candy to hit the shelves: Xocolatl de David's Chicharrón Chocolate Bar. Portland, OR-based chocolatier David Briggs has taken his 68 percent Bolivian cacao chocolate and studded it with pieces of fried pork rinds, or chicharrones, for a cheese-puff-like crunch and a slightly porky smokiness. The bars were made in a limited quantity in anticipation of Cochon 555; only 60 bars were sold at San Francisco chocolate shop Fog City News. Fellow Sugar staffer Sabs was lucky enough to nab one. I tried a bite and thought it was a wonderful idea, but I found myself wanting more chicharrón. How appealing does the combination sound to you?