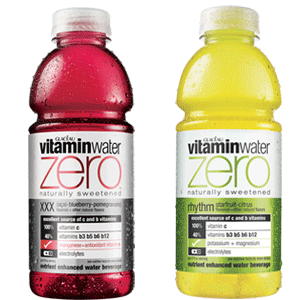 It's the year of nutrient-enhanced hydration, and there is no better an option to hydrate yourself than with vitaminwater zero, a nutrient-packed, tasty, zero calorie per serving hydration source. What could possibly be better than that? Oh wait, it's also now available in the new variant vitaminwater zero rhythm, a yummy starfruit-citrus flavor that contains potassium and magnesium to help support a normal heart rhythm.
Everyone's favorite nutrient-rich bevy of beverages is ringing in 2011 with their ever delicious bounty of flavors, which have ZERO calories per serving and are packed with rich vitamins that your body needs and craves.
So pick one up on your way home from a long night, on the way to the gym, or sip it while studying for your midterms.
Click here to check out all of the vitaminwater zero flavors, as well as the new variant vitaminwater zero rhythm flavor in starfruit-citrus, and get sippin' into better health in 2011!