Yemenese Butternut Squash Soup
Butternut Squash & Yemen N.10 Soup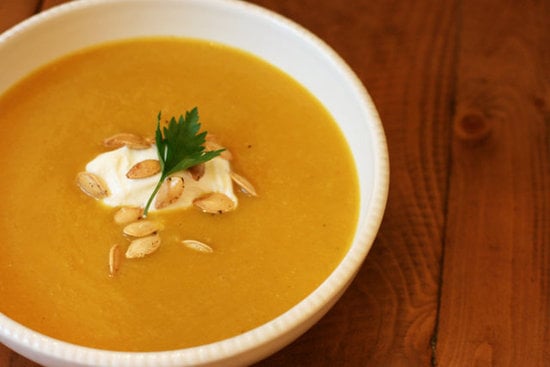 Notes
A few of our favorite serving ideas:
Add the juice of one lemon to the soup just before serving.
Drizzle a spoonful of yogurt on top of each soup before serving.
Use this soup recipe as a sauce for your favorite pasta, adding a few toasted pumpkin seeds as garnish.
Ingredients
1/2 cup olive oil
3 cups onions, thinly sliced
2 cups celery, thinly sliced
2 cups leeks, thoroughly washed and thinly sliced
3 tablespoons garlic, chopped
1/2 cup carrots, peeled and thinly sliced
1 Granny smith apple, peeled, cored, and thinly sliced
2 tablespoons La Boîte Yemen N.10 spice blend
1 tablespoons ginger, freshly grated
2 tablespoons light brown sugar
5 pounds butternut squash, peeled, seeded, and cut into a 1/2-inch dice
2-1/2 quarts water or low-sodium chicken stock
1/2 cup heavy cream (optional)
Salt and pepper, to taste
Directions
In a large, heavy-bottomed stockpot, heat the olive oil. Add the onions, celery, leeks, garlic, apple, and carrots. Cook over medium heat for about 15 minutes until tender, stirring every few minutes.
Add the Yemen spice, ginger, and brown sugar and cook for 5 more minutes.
Add the butternut squash and water. Season with salt and pepper, and bring to boil over high heat.
Reduce the heat, and simmer for 1 hour, or until the squash is very soft.
Add the heavy cream, if using, bring to boil, and simmer for 10 more minutes.
Blend until smooth using a blender or an immersion blender. Season to taste before serving.
Serves 10.
Information
Category

Other, Soups/Stews

Cuisine

Mediterranean/Middle Eastern