Yopa Greek Yogurt Review
Taste Test: Yopa! Greek Yogurt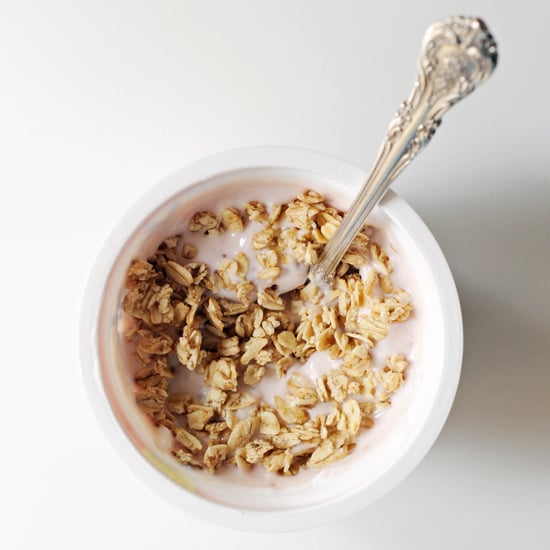 It's official: Greek yogurt is now the reigning queen of the dairy aisle. New brands have been sprouting left and right, and one of them is Yopa!, by the makers of YoCrunch. It bills itself as "authentic Greek nonfat yogurt," but how did it taste in comparison to other Greek-style yogurts on the market? To find out, we tasted three fruity classics — strawberry, blueberry, and black cherry — complete with an essential, crunchy granola (an added bonus on the package). Find out how Yopa! yogurt fared.
Blueberry
To our surprise, the blueberry flavor wasn't a showstopper. While one taster said the blueberry was reminiscent of blueberry muffins, it was clear the yogurt lacked the authentic blueberry flavor our tasters were seeking, with most declaring the flavor too sweet. This did make it a good contender for a healthier late-night dessert; for this reason alone, we wouldn't count it out completely.
Strawberry
Out of the three flavors tested, strawberry was the sure favorite. Between the fruity chunks, tangy finish, and crunchy granola, tasters declared this cup had the perfect combination of texture and crunch. One even mentioned it "reminded her of Summer." Tasters agreed that between the balanced flavor and convenient packaging, it'd be fitting for a snack or breakfast on the go.
Black Cherry
Although one comment likened the black cherry flavor to that of a cherry pie, this yogurt's aggressive bite had our tasters settling on an average score. The consensus? Again, that the yogurt was too sweet. Several also commented on the lack of fruit and bland texture. The flavor may not be hated but is not likely to be boasted about at the breakfast table, either.
Overall Thoughts
"This is the Yoplait of Greek yogurts," one taster declared. Indeed, it lacked some of the authentic tang and thickness of traditional strained Greek yogurts; yogurt aficionados were also not thrilled by its aggressive sweetness and added "natural flavors." That being said, some of the fruit options, like the strawberry flavor, rang true to their promise, and the convenient packaging can't be beat for those days when on-the-go eating is a necessity.
Photos: Nicole Perry