Not Your Regular Nachos: Black and White Nachos Now that Winter soups are a thing of the past, it's time to move onto a more interesting adventure. Recently I told you about my desire to open a restaurant devoted entirely to nachos, but in order for me to do so, I'll need a repertoire of nachos recipes. So to get started I've created a new feature entirely devoted to nachos!
Not your — not-yo, sounds like nacho — regular nachos, I'll be dishing out more than just tortilla chips and melted cheese. To get things started, I made a classic style dish that used items I already had in my pantry or fridge. To see how I made these black and white nachos,
.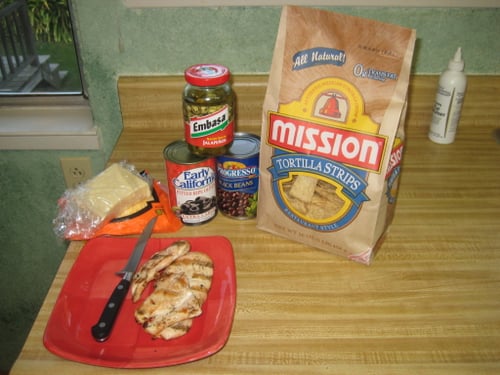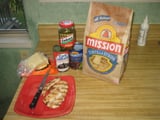 Ingredients
1 bag tortilla chips
2 cups grated white sharp cheddar cheese
1-2 cooked chicken breasts, chopped into small pieces
1 can black beans, drained and rinsed
1/2 cup sliced black olives
1/2 cup sliced jarred jalapenos
Directions
Cover a baking pan with foil. Preheat the oven to 350°F.
Arrange a layer of tortilla chips on the baking sheet. Sprinkle a 1/2 teaspoon of cheese on each chip. Spread another layer of chips over the top.
Scatter the chips with the chicken chunks and black beans.
Sprinkle with more cheese, the black olives and sliced jalapenos. Cover with the remaining cheese.
Bake in the oven for 15-20 minutes, until the cheese is melted, the chips are crisp, and the beans are cooked through.
To enjoy, serve with salsa and Coronas.
Serves 4.
Information
Category

Other, Appetizers

Cuisine

Mexican