Not Your Regular Nachos: Buffalo Nachos
After stuffing myself silly with Mexican food nachos on Cinco de Mayo, I just couldn't bear to have another plate of tortilla chips covered in cheese. That's why I started thinking about other types of chips and toppings. Before I knew it, I was in my kitchen crazily making these buffalo — as in wings not mozzarella — nachos. In this insanely tasty dish, sour cream and onion potato chips are topped with diced buffalo chicken and a blue-cheese sauce. The dish is baked and topped with fresh chopped parsley, green onions, and celery. To see how I made this surprisingly delicious snack, read more.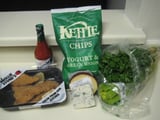 Ingredients
3/4 cup milk
1 tablespoon butter
1 tablespoon flour
1/4 cup grated or finely crumbled blue cheese
1/4 cup finely grated Parmesan cheese
1 bag sour cream and onion potato chips (recommended: Kettle Chips yogurt and green onion variation)
1 large chicken finger, diced
2-3 tablespoons Louisiana-style hot sauce (recommended: Crystal)
1/4 cup finely grated smoked Gouda
2 tablespoons minced parsley
2 green onions, dark greens removed, minced
1 celery stalk, finely chopped
Directions
Preheat the oven to 350° F.
Make the blue cheese sauce. Warm the milk in a small saucepan over low heat. Do not boil.
Meanwhile in a larger saucepan, melt the butter. Add the flour to make a roux, whisking to combine for 1 minute.

Pour the warmed milk into the butter flour mixture whisking to combine. Heat, bringing to an almost boil until thick.
Remove from heat and whisk in the blue and Parmesan cheeses. Set aside.
Spread a thin layer of chips on a baking sheet or other oven vessel.

In a small bowl, combine the diced chicken with the hot sauce being careful to fully coat all of the chicken with the sauce.
Scatter a layer of chicken on top of the chips. Spoon three tablespoons of the cheese sauce over the chips and chicken.
Top with another layer of chips and the remaining chicken. Pour the rest of the sauce over the entire dish. Sprinkle half of the parsley and green onions over the top. Dust with the smoked Gouda.

Bake in the oven for 7-10 minutes until the cheese is bubbly and melted, the chips are crisp, and the chicken is cooked through.
Remove and top with remaining parsley, green onions, and the fresh celery. Enjoy immediately.
Serves 2.
Information
Category

Cheese, Main Dishes

Cuisine

Mexican