Not Your Regular Nachos: Classic Nachos I know I promised these wouldn't be boring, regular nachos, but before things get too crazy, I decided to make my version of classic nachos. According to the food dictionary on Epicurious, a nacho is a chip topped with melted cheddar cheese and chopped chilis. These nachos are topped with cheese, chilis, and refried beans.
To give the nachos a more gourmet feel, I fried tortillas to make fresh chips. These were incredibly tasty and easy to make. Be careful when frying the tortillas, you don't want them too crisp because you'll finish them off in the oven. Also, be sure to open a window or turn on a fan. When I was making them, I set off my fire alarm! To see the recipe,
.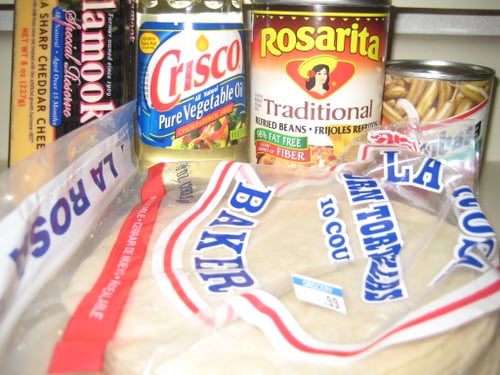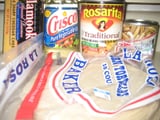 Ingredients
1 small (24 oz) vegetable oil
5 small corn tortillas
salt
1 can (16 oz) refried beans
1 cup grated extra-sharp cheddar cheese
1-2 tablespoons Serrano chili, seeded and minced
Directions
Pour oil into a large, sturdy pot over high heat. Cover a plate with paper towels and place near the stove. Have tongs ready and waiting. Preheat the oven to 350°F.
Slice the circular tortillas in half lengthwise and crosswise, make triangle shaped wedges.
While the oil heats, empty the can of refried beans into a small pot. Heat over medium low heat stirring often until the beans are warm and smooth.
When the oil is smoking — test with a small piece of extra tortilla — add several tortilla triangles to the pot with the tongs. Fry until light tan in color, about 1-2 minutes. Flip and fry for another 30-50 seconds until the chip is a light golden brown color. Remove from the pot, drain on waiting paper towels. Sprinkle with salt. Repeat with the rest of the tortillas, frying in small batches until all the chips are made. Set aside to cool.
Cover a baking sheet or cookie pan with foil.
Once the chips are cool enough to handle, spread 1-2 tablespoons of refried bean on top of the flat side of each chip. Place on the prepared baking sheet.
Sprinkle 1-2 teaspoons of grated cheese over the refried beans. Top with the minced chilies.
Bake in the oven for 2 minutes. Turn the oven to broil and broil until the cheese is bubbling and melted, and the chips are crisp.
Serves 2.
Information
Category

Other, Appetizers

Cuisine

Mexican